Clarissa Tossin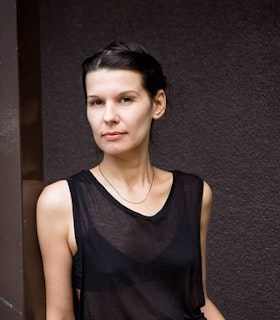 2019 was a very productive year where I had the luxury to envision and initiate important new bodies of work due to the financial security provided by [the FCA grant] I was awarded… A portion of my grant was allocated for research and 3D-printing production of objects for the video performance 21st Century Wisdom: Healing Frank Lloyd Wright's Textile Block Houses which connects historic 1920s Mayan Revival buildings in Los Angeles with the city's present-day Maya diaspora community…The FCA grant was fundamental for the production of the pre-Columbian flute replicas made in collaboration with archeologist Jared Katz, the Mayer Post-doctoral Curatorial Fellow for Pre-Columbian Art at the Denver Museum…the remaining amount was used towards life expenses which ultimately allowed me more studio time to envision and start working on these new projects. [This] has been the most generous grant I have received up to this point in my career. I am extremely grateful not only for the financial support received but equally to the enthusiastic recognition of the work I have done over the years. This grant has certainly enabled me to push my work to the next level and I look forward to completing the projects started in 2019 in the next few years.
- Clarissa Tossin, December 3, 2020
Artist Statement
My work engages with material cultural production primarily through installation, video, and sculpture. I'm concerned with how cultural differences resist, or are transformed, through exchanges at a local and global level. Sometimes this inquiry follows my own geographic displacements; growing up in Brasília, Brazil, instigated an early interest in the unacknowledged narratives implicit in the built environment. In order to re-contextualize these historical narratives, I employ decolonizing strategies based on my own lived experiences. By doing so, I propose relationships that question established subject positions and claim spaces for idiosyncratic experiences.
A recent body of work focused on 1920s Mayan Revival buildings located in Los Angeles and reflected the relationship with the body and performance found in ancient Mayan architecture and cosmology, while claiming a different space for those structures to exist in the present. Tracing history through gesture and displacement, my sculptures often carry the performatic presence of the body; my videos excavate unacknowledged narratives contained in the buildings of Oscar Niemeyer and Frank Lloyd Wright.
- December 2018
Biography
Clarissa Tossin is a visual artist who uses installation, video, performance, sculpture, and photography to negotiate hybridization of cultures and the persistence of difference. By embracing semantic displacements in given material cultural ecosystems, Tossin's work reflects on circulation from the level of the body to the global industry.
Tossin's work has been exhibited widely, including in the exhibition Pacha, Llaqta, Wasichay: Indigenous Space, Modern Architecture, New Art at the Whitney Museum of American Art in New York (2018), and in the Twelfth Gwangju Biennale in Gwangju, South Korea (2018). In 2017, Tossin received a commission from the city of Los Angeles as part of Pacific Standard Time: LA/LA for the exhibition Condemned to Be Modern at the Los Angeles Municipal Art Gallery. Also in conjunction with PST: LA/LA, her work was included in the exhibition Mundos Alternos: Art and Science Fiction in the Americas at the UCR/California Museum of Photography, which will travel to the Queens Museum in 2019.
As a Radcliffe Institute Fellow at Harvard University (2017-18), Tossin worked towards the installation Encontro das Águas (Meeting of Waters) (2018), which became the subject of a solo exhibition at the Blanton Museum of Art in Austin, TX. The project unfolded into a new exhibition, Future Fossil (2019), commissioned by the Radcliffe Institute of Advanced Study at Harvard University. Tossin's work has been exhibited domestically at the CCA Wattis Institute for Contemporary Arts, San Francisco; Ezra and Cecile Zilkha Gallery, Wesleyan University, Middletown, CT; Hammer Museum, Los Angeles; Museum of Contemporary Art Detroit, Detroit; Museum of Latin American Art, Long Beach, CA; SITE Santa Fe, Santa Fe, NM; Queens Museum, New York; and internationally at the Center for Contemporary Art, Tel Aviv, Israel; Iberê Camargo Foundation, Porto Alegre, Brazil; La Kunsthalle Mulhouse, Mullhouse, France; SESC Pompéia, São Paulo, Brazil; and Skulpturenmuseum Glaskasten Marl, Marl, Germany.
Tossin is the recipient of a Fellows of Contemporary Art Fellowship (2019) and an Artadia Los Angeles Award (2018); a Fellowship for Visual Artists from the California Community Foundation (2014); and an Artistic Innovation project grant from the Center for Cultural Innovation (2012). She holds an M.F.A. from the California Institute of Arts.