Constantina Zavitsanos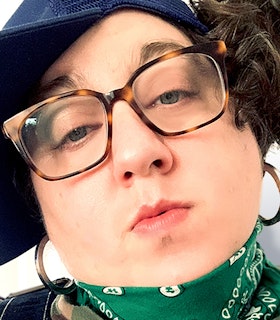 Thank you for not another application. Thank you for not a budget but an abundance. Thank you for no purchase necessary. Thank you for magically knowing this of all years! Or, unknowingly conjuring this act as anything but the closing. Thank you for the open. 'Til every card's a winner, until everyone wins. May you all be blessed. And may I live to be the everyone you clearly see in me such that when I win we all do.
- Constantina Zavitsanos, December 15, 2021
Artist Statement
Like most people, I really feel things, including those often deemed immaterial. And I double down on that commonly held resource of feeling, materially. I work at the limits of what constitutes matter and capacity, to interfere in what perceivably must be accessed through fixed form or a given sense. I sculpt things like inaudible sound waves or holographic transmissions that slip from view—simultaneously producing endless repetition and static demonstration, or disappearing altogether. Sometimes I use ubiquitously shared yet personal things not commonly thought of as materials for sculpture or performance—like school loan debt (hours in debt), or years of sleep (ours in bed), among other shared dreams and desires. I also use things that claim to define living in this material world such as gold bars and Visa cards, just to give them away.
I stay with dependency's insistence on abundance—the takeaway of which is the superposition of need and desire. Revealing the materiality of the perceived limits of the audible, sighted, light, lays bare that that which has been deemed universal is a mere contingency. Our incapacity insists we make together at the limits of capacity, in favor of a means beyond measure—at the limit of the possible—and toward an ever impossible and wholly real love.
- December 2020
Biography
Constantina Zavitsanos is a conceptual artist who works in sculpture, performance, text, and sound. Zavitsanos's work elaborates what is invaluable in the re/production of debt, dependency, and other shared resources.
Their work questions how incapacity and the seemingly inconsequential performances of social life might exceed the threshold of measure. Zavitsanos's practice celebrates disability and debt as difference beyond separability and works to reveal the false opposition of dependency and autonomy––a myth often used to reinforce scarcity (for the many) amid abundance (for the few). Yet, distribution itself has many forms: from the art historical takeaway, to the ubiquitously popular giveaway, from the solution of making a way, to the dissolution of making no way and living in means without ends. Zavitsanos's work stays with this means beyond measure to deny measurement its claims on life at large (and small).
L&D Motel, their solo show at PARTICIPANT INC, New York, NY (2019), formally experimented with the holographic principle of quantum gravity through an installation that was built into the architecture of the gallery and which sculpted low frequency laser waves and infrasonic sound waves by feel. The exhibition foregrounded non-visual knowledge through participants' experiences of touch and vibration.
Zavitsanos has exhibited and performed in New York at the New Museum, Brooklyn Museum, The Kitchen, Artists Space, Solomon R. Guggenheim Museum, MoMA PS1, The Elizabeth Foundation for the Arts, and Essex Street, and elsewhere in the U.S. at the Wexner Center for the Arts, Columbus, OH and Franklin Street Works, Stamford, CT. They have exhibited and performed internationally at Haus der Kulturen der Welt and the Schinkel Pavillon in Berlin, Germany; Tramway in Glasgow, Scotland; Artspeak in Vancouver, Canada; Fri Art Kunsthalle Fribourg in Fribourg and the Gebert Stiftung für Kultur in Rapperswil-Jona, Switzerland; and the Wysing Arts Centre in Cambridge, United Kingdom.
With Park McArthur, they co-authored texts for Women and Performance: The Journal of Feminist Theory (Routledge, 2013), and Trap Door: Trans Cultural Production and the Politics of Visibility (MIT Press, 2017).
Zavitsanos was a New Museum Research and Development Season: SPECULATION Artist-in-Residence (2015) and was awarded the Wynn Newhouse Award (2015). They were a visiting artist at the Institute for Gender, Race, Sexuality and Social Justice, University of British Columbia, Vancouver, Canada (2017).
With others in New York's disability community, Zavitsanos co-organized the cross-disability arts festival, I wanna be with you everywhere, at Performance Space New York and the Whitney Museum of American Art. Zavitsanos holds an M.F.A. from the Pennsylvania Academy of the Fine Arts, Philadelphia and a B.F.A. from Millersville University and attended the Whitney Independent Study Program.