Curtis Mitchell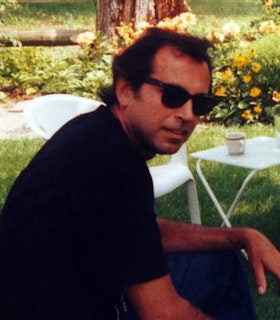 Your grant this year helped provide some much needed financial breathing room, enough for me to shift the focus of my practice. I have always had a practice which centered on the tension between the individual and a spectacle; this year I took it one step further, toward an individual sensibility.
- Curtis Mitchell, January 2012
Artist Statement
I was reminded of a chat with my friend Bruce one day a long time ago. "Remember all the movies, Curtis, we'd go see, trying to learn how to walk like the heroes we thought we had to be? And after all this time to find we're just like all the rest."
- December 2010
Biography
Curtis Mitchell is a visual artist who works in video installation, sculpture, and photography. His recent work centers around setting up visual dialogues in an ongoing series of visual installations. His FCA grant was used for travel to St. Petersburg and several places along the Amazon River. Mitchell has had solo exhibitions at venues including MoMA PS1, the Mattress Factory, Pittsburgh; the Sculpture Center, Cleveland; KX Gallery, Germany; Galerie Marc Jancou, Zurich; as well as White Columns, Andrea Rosen Gallery, Esso Gallery, and Martos Gallery in New York.
Mitchell has participated in numerous group exhibitions around the world, including MoMA PS1, the New Museum, the Landesmuseum, Austria; the Mucsarnok Palace of Art, Budapest; the Aldrich Museum, Connecticut; and the Mexican Cultural Institute in New York. His works are in several public and permanent collections, including the Walker Art Museum, the New York Public Library, the Boston Museum of Fine Arts, and the Lannan Foundation.
Prior to his 2011 Grants to Artists, Mitchell received an Adolph & Esther Gottlieb Foundation Individual Support Grant (2005), and a Pollock-Krasner Foundation Grant (1990). Mitchell has been a guest lecturer at Yale University, Hunter College, Parsons School of Design, Rhode Island School of Design, the School of Visual Arts, Bennington College, and Cornell University. He has been a visiting or adjunct professor at Yale, Parsons, New York University, Cleveland Institute of Art, and Pratt Institute of Art. Mitchell earned his M.A. in Sculpture from Goddard College (1981), and his M.F.A. in Sculpture from Yale University School of Art (1983).