Daniel Bozhkov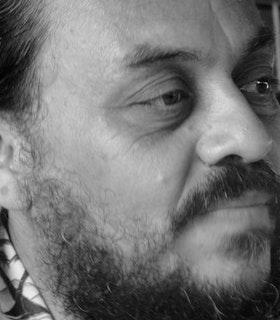 This recognition by some of my favorite artists working today has been a real moral and emotional boost for me… The [Grants to Artists] program of the Foundation for Contemporary Arts is indeed a very inspiring example of artists supporting other artists at vital moments of their careers, and I believe that your attention and help will have lasting effects for me.
- Daniel Bozhkov, January 2013
Artist Statement
My work involves acts of resistance to institutionalized homogenization, aiming to be more infectious than disruptive. Imagine a 911-emergency operator covering for a "rainmaker" between shifts.
I use a variety of media, from fresco to performance and video, and I often work with professionals from different fields to activate public space. My projects are embedded in the worlds of genetic science, department mega-stores and world-famous tourist sites, where I enter as an intruder/visitor who produces new strains of meaning into seemingly closed systems. As a collaborator with reality, I try to set in motion a process of accelerated archeology that is faster than the institutions' built-in obsolescence.
- December 2011
Biography
Daniel Bozhkov employs variety of media, from fresco to performance and video, and works with professionals from different fields using different strategies to activate public space. In Darth Vader Tries to Clean the Black Sea with Brita Filter (2000), Bozhkov posed as the Star Wars anti-hero in a noble but impractical ecological intervention. In Befriending the Bacteria (2001–2002), Bozhkov produced yogurt out of bacteria modified with his own DNA and packaged it in marketable containers. In Eau d'Ernest, Bozhkov created a perfume that evokes the scent of Ernest Hemingway. At the 25th Annual Hemingway Look-A-Like Contest in Key West, Florida, Bozhkov marketed the fragrance with TV commercials and posters.
Bozhkov has had solo exhibitions as the Queens Museum, NY; Contemporary Art Center, Atlanta; Skulpturenpark Berlin-Zentrum, Berlin; Arthouse, Austin, TX; and Andrew Kreps Gallery, NY. Bozhkov has also shown at MoMA PS1; Santa Monica Museum of Art, Los Angeles; Contemporary Art Center Cincinnati, Ohio; Ikon Gallery, Birmingham; OK Centrum für Gegenwart Kunst, Austria; and Platform Garanti Contemporary Art Center, Istanbul. Bozhkov's work has been presented in international exhibitions including the 2010 Liverpool Biennial, the 6th Mercosul Biennial in Porto Alegre, Brazil in 2007, and the 9th Istanbul Biennale in Turkey in 2005.
Prior to his Grants to Artists, Bozhkov received a grant from the Andy Warhol Foundation (2005), the National Endowment for the Arts (2006), a Chuck Close Rome Prize of the American Academy in Rome (2007), and a Residency Prize, Alpert Award in the Arts (2010). He received a degree from the Academy of Fine Arts in Sofia, Bulgaria (1986), and an M.F.A. from Hunter College, CUNY (1996) where he has served as an associate professor of art.