David Behrman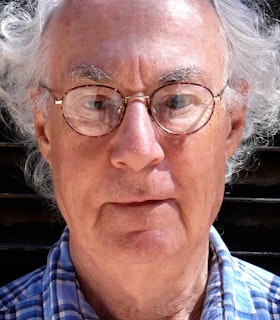 [The Grants to Artists award] helped make possible almost a year of concentrated work on three projects: a music installation, In Thin Air; the construction of a new input-sensing system; and a long piece for vocalists and musicians called My Dear Siegfried...
- David Behrman, January 11, 1996
Artist Statement
I've been engaged for many years in an exploration of ways to make music and intermedia installations in which software and electronic devices interact with human performers. I've wanted to make works that have personalities, which remain distinct and recognizable, yet are open to surprising changes that can come about when they are performed or exhibited. I've liked the idea of being a designer of situations rather than of fixed pieces.
In the mid 1960s, my friend Gordon Mumma helped me learn to build audio circuitry for concert performances. A number of "live electronic" pieces resulted from that activity. Together with my fellow members of the Sonic Arts Union (Alvin Lucier and Robert Ashley in addition to Gordon Mumma), we toured and presented programs of experimental music featuring live electronics and theatrical elements until the late 1970s.
Long-term relationships with a number of other artists, musicians and ensembles have had large influences on the projects I've undertaken. Some of those have been collaborations, among them the audio/video installation Cloud Music, made in the late 1970s with Robert Watts and Bob Diamond, and a number of music pieces, made in the long period from the 1960s into the 2010s, for the Cunningham Dance Company.
In pieces intended for concert performances, among them Leapday Night, Long Throw, and Open Space with Brass, loose notations are combined with interactive computer software and electronic music generators to allow performers freedoms within flexible structures. In multimedia installations, sensors pick up signals from the natural world or from other sources and link them to electronic music and video.
Artists of my generation who have worked selectively with technology are veterans of explosive change. Tools and techniques that we have learned to use have been rapidly made obsolete and been replaced by others. Now that we are deep within the twenty-first century, it seems more urgent than ever to seek fruitful balances between elements from the past and present and from the natural and high-tech worlds.
- 2014
Biography
David Behrman has been active as a composer and artist since the 1960s. Over the years he has made sound and multimedia installations for gallery spaces as well as musical compositions for performance in concerts. Most of his pieces feature flexible structures and the use of technology in personal ways; the compositions usually rely on interactive real-time relationships with imaginative performers.
His compositions have been presented at venues in North America, Japan, and Europe including Sankt Peter in Cologne, Inventionen in Berlin, the CBC in Toronto, Metronom in Barcelona, Roulette, Experimental Intermedia, Interpretations, The Kitchen, the Lincoln Center Summer Festival, La MaMa E.T.C., the Armory in New York, and Studio 200 in Tokyo. Many notable artists have performed Berhman's music, and he has collaborated with performance artists, sound artists, and filmmakers. Selected works for soloists and small ensembles include Long Throw, Unforeseen Events, FCPA-supported My Dear Siegfried, Leapday Night, QSRL, On the Other Ocean, Interspecies Smalltalk, Homemade Synthesizer Music with Sliding Pitches, Figure in a Clearing, Protests 1917—2004, and Useful Information.
Behrman's sound and multimedia installations have been exhibited at the Parochialkirche in Berlin, the LaSuen Art Gallery at Stanford University, the Whitney Museum of American Art, the Museum of Contemporary Art in Chicago, The Hudson River Museum, the DeCordova Museum, The Addison Gallery of American Art, Ars Electronica in Linz, La Villette Science and Technology Museum in Paris, and Studio Five Beekman, among other spaces. Selected installations include Cloud Music (1979), a collaboration with Robert Watts and Bob Diamond which is now in the collection of the Smithsonian American Museum in Washington; Sound Fountain (1982), a collaboration with Paul DeMarinis; A Map of the Known World and Algorithmes et Kalimba (1986-87), collaborations with George Lewis; FCPA-supported In Thin Air (1997), Pen Light (2002), and View Finder (2002-2005).
Behrman has received grants from the National Endowment for the Arts, New York State Council on the Arts and New York Foundation for the Arts, and residencies with the Japan-United States Friendship Commission, Art Institute of Chicago, Stanford University, Harvestworks, and he was a DAAD Berlin Artist-in-Residence. In 2005 he was a co-recipient, with Larry Polansky and Kristin Norderval, of the Henry Cowell Award from the American Music Center. He received the Foundation's biennial John Cage Award in 2004.
Together with Robert Ashley, Alvin Lucier and Gordon Mumma, Behrman founded the Sonic Arts Union in 1966 and performed with them until 1977. Behrman began working with the Merce Cunningham Dance Company in 1967. He toured as a performer with the company, composed four pieces for Cunningham works, and was a member of the Company's Music Committee from 2004 to 2011.
Behrman received a B.A. from Harvard College and an M.A. from Columbia University. He was co-director of the Center for Contemporary Music at Mills College from 1975 to1980, and a visiting professor in 1999. He has also taught at California Institute of the Arts, Rutgers University, Ohio State University, and the Technical University in Berlin. He has been a member of the Milton Avery Graduate Arts Program faculty at Bard College since 1998.