David Diao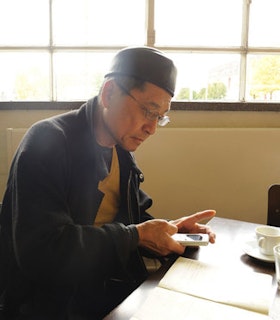 i had been in discussion with my landlord to move from my long-term home and studio to another floor in the same building... I finally accepted to do this thereby gaining much more space. However this move incurred much expenditure of time and money... It cost close to $10,000 just for the move alone... Much of the year also went towards the preparation and much work in connection with a major retrospective showing of 125 paintings from my 47-year career. The show was hosted by the Ullens Center for Contemporary Art in Beijing and ran from September through November.
- David Diao, December 9, 2015
Artist Statement
The starting point of my work has been a certain devotion to the lineage of abstraction as developed in high modernism. But unlike the formalist use of abstraction, I employ these forms to the specific tasks of troubling the history of modernism itself, and also my own personal history of over forty years as an artist. The earliest works from the late-1960s onward were referred to as the formalist abstraction of the postwar New York School. In the mid-1980s, with an assist from the debates around appropriation, I dove back into the European avant-garde of the 1910s and 1920s. This, and my observations of the art world, led me into analyzing the mechanism of how art history is written and value consigned. But this is done by painting as I am a painter and not anything else.
- December 2014
Biography
David Diao is an artist who began making paintings in 1964, nine years after moving to New York from Hong Kong. His work is devoted to the lineage of abstraction and is grounded in his personal history as an immigrant of Chinese heritage. His works riff on famous Modernist paintings and borrow images and motifs from works by artists such as Ad Reinhardt, Jackson Pollock, Kasimir Malevich, and Barnett Newman. He uses catalogues, archival photographs, and ephemera as points of reference. The works are both tributes to, and interrogations of, the subject-artists' careers.
With the support of his 2015 Grants to Artists award, Diao prepared for his retrospective at the Ullens Center for Contemporary Art in Beijing, which included 125 paintings. Since 1969, Diao has had solo and two-person exhibitions at Paula Cooper Gallery and Leo Castelli Gallery, and solo and group exhibitions at Postmasters Gallery, Chern Piin Gallery, Taiwan; Tanya Leighton Gallery; Courtyard Gallery, Beijing; the Arts Club of Chicago; Galerie "Westersingel 8" in Rotterdam; MC Contemporary, Madrid; the Musée d'Art Moderne in Saint Etienne, France; and the Aldrich Contemporary Art Museum, Connecticut. In 2014, the University of Strasbourg hosted a colloquium on his work with a dozen papers presented by various art critics and historians.
Diao's work is in the collections of The Museum of Modern Art, the Whitney Museum of American Art, the Brooklyn Museum, the High Museum in Atlanta, the Albright-Knox Art Gallery in Buffalo, the Akron Museum in Ohio, the San Francisco Museum of Modern Art, the Blanton Museum at University of Texas at Austin, The Brittany Regional Contemporary Art Fund in France, the Art Gallery of Ontario, Toronto, and the Vancouver Art Gallery.
Prior to his FCA support, Diao received and a John Simon Guggenheim Memorial Fellowship in painting (1973), grants from the National Endowment for the Arts, a Pollock-Krasner Foundation Grant (1990), and an Adolph and Esther Gottleib Foundation Grant (1993).
Diao received his B.A. from Kenyon College and was on faculty at the Whitney Museum Independent Study Program from 1970 to 2000.