David First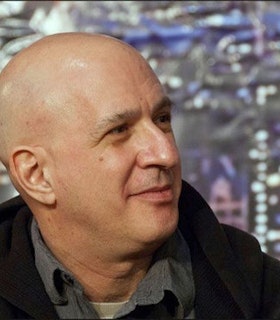 The Grants to Artists award that I received in 2001 could not have been more fortuitous. I was living in lower Manhattan, two blocks from the World Trade Center... the energy everywhere in the neighborhood was unforgettably powerful. I decided to write a song to contribute to the recovery in the best way I could. The result was Jump Back… I began home-burning CD-Rs and giving them out at Ground Zero… After I got the grant from FCPA I was able to mass-produce 3,000 more. It was a very gratifying experience for which I received much appreciated feedback from strangers and friends alike. But it also had given me something to do—it kept me somewhat grounded and feeling useful.
- David First, January 2002
Artist Statement
Most of my artistic output is steeped in a concept I call Gestural Improvisation. GI is a set of procedures that isolates those musical elements traditionally considered ornamentation or aspects of expression and elevates them to the level of most significant extrapolative detail. Examples of fundamental gestural improvisation techniques would be the implementation of glissando/pitchbend/vibrato in the area of frequency, active filtering/overtone isolation in the area of timbre, and tempo modulation/syncopation/rubato in the area of rhythm. This detail, however, is only one set of co-ordinates in a field of continuous energy. It is a simple function that results in a multiplicative reaction—like the ripples caused by tossing pebbles into a pond. The improviser chooses (or, often, is assigned) a promising area—a pitch, a rhythm, a texture—to light upon and attempts to establish a sphere of transformative influence over the entire system. Gestural Improvisation can also be practiced by making minute rates of change in any number of processing techniques such as delay lines, panning, phase, etc. It breaks down singularities into microscopic scales and shadings in order to find deeper singularities—a single half-step frequency range or pulse rate may comprise the entire exploratory material for minutes at a time. The player sweeps through a particular circumscribed region with the intention of discovering a unique sonic dimension—an electrical, mesmerizing charge—that is the direct product of an acoustical fusion between his/her gesture and the surrounding energy field. Once this area has been identified and its epicenter determined, the player then develops a range of misalignment values that are used to create structures of tension and release. Gestural improvisation is, above all, an exercise in friction—one rubs in the same area with the same motion until the heat produces sparks. The resulting sound of this activity, in the best of circumstances, takes on a sort of illusory depth as the two axes (player and field) beget an ultra-vivid third entity not unlike moiré patterns that trick the eye and re-orient the mind into accepting a new, expanded reality.
- 2014
Biography
David First is a composer whose work ranges from pop songs to severely minimalist droneworks. He often plays computer or guitar. As a solo artist, First has worked in a wide range of forms, including improvised jazz, abstract electronic music, sound art, audiovisual experiments, and opera. First has played with jazz pianist Cecil Taylor at Carnegie Hall and Richard Lloyd of the rock band Television. He has led the Western Enisphere, World Casio Quartet, Joy Buzzers, and The Notekillers.
First's opera, The Manhattan Book of the Dead, was staged both at La Mama Annex Theater in 1995 and in Potsdam, Germany in 1996. His works include The Notekillers albums The Zipper (1980) and We're Here to Help (2010), as well as the solo album Resolver (1991). First's 2001 Grants to Artists supported his solo album Universary (2002); after receiving his FCPA award, First released Operation: Kracpot (2003), A Bet on Dave's Waves (2003), Harebrainer (2003), Transcendence Favors the House (2010), and Electronic Works (1967-77) (2014). His solo album Privacy Issues (Droneworks 1996-2009) was released on Phill Niblock's XI label in 2010.
His music has been performed at The Kitchen, Bang on a Can Festival, Central Park Summerstage, Spoleto Festival, the Heidelberger Festival for Experimental Music and Literature, The Impakt Festival in Utrecht, Exit Art, and Studio Five Beekman. Subsequent to his 2001 Grants to Artists award, in 2002, he opened a "Sonic Restaurant" named Dave's Waves in Lier, Belgium and in 2013 he opened a second one in Leeuwarden, the Netherlands.
Following his FCPA grant, First was awarded the Neupauer Conservatory Order of the Shield (2001) for his achievements in the world of music; subsequently he was given awards from the Mary Flagler Cary Charitable Trust (2002), Copland Foundation (2004), and the Meet the Composer Commissioning Program (2007). Prior to his 2001 Grants to Artists award, First received a grant from National Endowment for the Arts (1995).
First attended Combs Conservatory of Music, studied privately with jazz composer Dennis Sandole, and took courses in analog and digital electronic music studies at Princeton University.