David Lang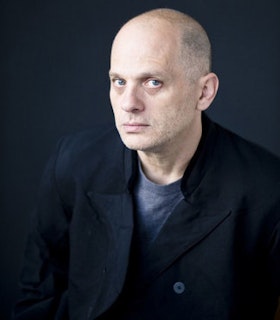 The grant from FCA enabled to me have a great and productive year.
- David Lang, July 8, 2012
Artist Statement
I write music.
Many of my pieces are about the struggle to create beauty. An example of this is my piece The Passing Measures, for bass clarinet, amplified orchestra and women's voices, in which a single very consonant chord falls slowly over the course of forty minutes. That's it—that is the piece. Every aspect of the piece is on display, however—magnified, examined, amplified, prolonged. The soloist's notes are impossibly long, requiring frequent drop-outs for breath and for rest. The players are all instructed to play as quietly as possible, and then are amplified at high volume, in order to make their restraint an issue of the piece. Four percussionists scrape pieces of junk metal from start to finish, as if to accompany the consonance of the chords with sounds of dirt and decay. It's a kind of equilibrium between beauty and futility. I think about that a lot.
Since 1987 I have been co-founder and co-artistic director with my friends Michael Gordon and Julia Wolfe of the music organization Bang on a Can. I am very happy about that.
- 2003
Biography
David Lang is a composer who is both versed in the classical tradition and committed to music that resists categorization, constantly creating new forms. Lang's pieces often resemble each other only in the clarity of vision that informs their structures. His catalogue is wide-ranging, from opera, orchestral, chamber, and solo. It has been said that much of Lang's work seeks to expand the definition of virtuosity in music—even the deceptively simple pieces can be difficult to play and require incredible concentration by musicians and audiences alike.
With support form his 2002 FCPA grant, Lang worked on a series of songs called songs for lou reed, which includes Heroin (2007). The series set Lang's music with excerpts from the first Velvet Underground record. He also worked on a piece for cellist Maya Beiser called world to come (2003). The work layered nine prerecorded version of Beiser playing cello, plus vocals, and premiered in a concert alongside another commissioned composition by Steve Reich.
Lang's works subsequent to his 2002 Grants to Artists award include writing on water (2005) for the London Sinfonietta, with libretto and visuals by English filmmaker Peter Greenaway; reason to believe (2011) for Trio Mediaeval and the Norwegian Radio Orchestra; death speaks (2012) for Shara Worden, Bryce Dessner, Nico Muhly, and Owen Pallett at Carnegie Hall; love fail (2012), for the early music vocal ensemble Anonymous 4, with libretto and staging by Lang at the Kennedy Center, University of California Los Angeles, and the Next Wave Festival at Brooklyn Academy of Music; and the concerto man made (2013) for the percussion ensemble "sopercussion" and a consortium of orchestras, including the BBC Symphony and the Los Angeles Philharmonic.
Lang's work has been performed by the BBC Symphony, the International Contemporary Ensemble, eighth blackbird, Santa Fe Opera, the New York Philharmonic, the Netherlands Chamber Choir, the Boston Symphony, the Munich Chamber Orchestra, and the Kronos Quartet. His work has been heard at venues including Lincoln Center, the Southbank Centre, the Kennedy Center, the Barbican Centre, Tanglewood, the BBC Proms, MusicNOW festival, The Munich Biennale, the Settembre Musica Festival, andthe Sydney 2000 Olympic Arts Festival. His compositions have been included in theater productions and dance works, in the choreography of Benjamin Millepied, Twyla Tharp, La La La Human Steps, The Netherlands Dance Theater, Susan Marshall, and the Paris Opera Ballet.
Since receiving his 2002 Grants to Artists award, Lang has received several major honors, including a Pulitzer Prize for his piece the little match girl passion (2008), Musical America's Composer of the Year (2013), a Doris Duke Performing Artist Award (2013), Inernational Society for the Performing Arts's Performing Artist of the Year (2013), and Carnegie Hall's Debs Composer's Chair (2013-2014). In 2014 Lang was elected to the American Academy of Arts and Letters and in 2015 he was named Chevalier of the Order of Arts and Letters by the French Government.
Lang is Professor of Music Composition at the Yale School of Music and is co-founder and co-artistic director of New York's legendary music collective Bang on a Can. His work has been recorded on the Sony Classical, Harmonia Mundi, Teldec, BMG, Point, Chandos, Argo/Decca, and Cantaloupe labels, among others. His music is published by Red Poppy Music (ASCAP) and is distributed worldwide by G. Schirmer, Inc.