David Levine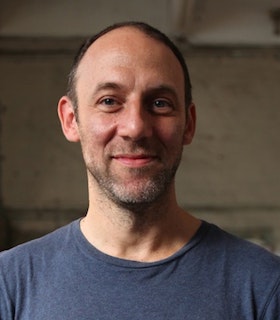 FCA performs a really valuable and rare service, not only in awarding the grants, but assembling its juries. Performance-based artists do win awards here and there, but it's very rare to feel that these honors are being bestowed by people who understand what we're up to, and what we're trying to do. The money was fine; the award itself was validating. And it will remain a signal moment in my career.
- David Levine, December 22, 2016
Artist Statement
I'm interested in the relationship between spectacle and spectatorship; how our attention is structured in a gallery as opposed to a theater, as opposed to the street or a classroom or the workplace or a mall—and how that affects what we see. How watching makes people into performers. These are political questions as much as architectural ones, and I try to work between institutions­—visual arts, performance, film, photography, the law—to frame the premises of each more clearly.
The vehicle for these explorations is usually American-type acting, both as a technique and as a metaphor. Our cultural imperative to "act natural" means the professional actor can embed their techniques into all kinds of situations; sometimes I work with actors on a stage, but they're equally often in a crowd, or at a job, or at an exhibition, sometimes blending in, sometimes acting out, but most often vibrating between these states, like all the rest of us.
- December 2015
Biography
David Levine is an artist and writer who creates performance work; video, photographic, and installation work; and written pieces. After five years as a professional theater director in New York (Atlantic Theater, Vineyard Theater, Sundance Theater Lab, New Dramatists Director-in-Residence), Levine began creating work that combined the psychological realism of Method acting with the formal concerns of conceptual art.
After receiving his 2016 Grants to Artists award, Levine created Sepulchral City (2016) for the exhibition That Time at the Gerðarsafn Kópavogur Art Museum, Kópavogur, Iceland, in which two actors wandered the city performing the Brussels and London segments of Joseph Conrad's Heart of Darkness as personal monologues. Levine's other notable works include Private Moment (2015), part of Creative Time's Drifting in Daylight: Art in Central Park, for which he staged iconic movie scenes that take place in Central Park with live actors in their original locations in the park; and Actors at Work (2006), in which Levine filed Actor's Equity contracts for union actors to work at their day jobs, legally converting this workplace into a theater and each job into a performance. Previous to his FCA support, Levine premiered and exhibited his works domestically and internationally, including Bauerntheater, at Biorama-Projekt, Joachimsthal, Germany (2007); Hopeful, at Galerie Feinkost, Berlin, Germany (2009); HABIT, at MASS MoCA, North Adams, MA (2011); WOW, at BRIC House, Brooklyn (2014); The Best New Work, at The Gallery at REDCAT, Los Angeles (2015); and Bystanders, at Gallery TPW, Toronto, Canada (2015).
His performance works have been seen domestically at Blum & Poe, Los Angeles; Creative Time, New York; The Museum of Modern Art, New York; the Museum of Fine Arts, Boston; The Watermill Center, Water Mill, NY; and in Germany at Documenta XII, Kassel; KW Institute for Contemporary Art, Berlin; and Tanya Leighton Gallery, Berlin. Levine's video, photographic, and installation work has been exhibited at Ghebaly Gallery, Los Angeles; Goethe Institut, New York; HAU2, Berlin, Germany; International Studio & Curatorial Program, Brooklyn; Matadero Madrid, Madrid, Spain; Museu Coleçao Berardo, Lisbon, Portugal; Townhouse Gallery, Cairo, Egypt; and the Utah Museum of Contemporary Art, Salt Lake City. His writing has appeared in Parkett, Mousse, Triple Canopy, Cabinet, and Theater.
Levine has received the German Federal Cultural Foundation Commissioning Grant for Bauerntheater (2007), a New York Foundation for the Arts Fellowship (2007), a Florence Gould Foundation Commissioning Grant for Venice Saved (2008), an Etants Donnés (French-American Fund for Performance) Commissioning Grant for Venice Saved (2008), a Radcliffe Institute for Advanced Study at Harvard University Fellowship (2012-2013, 2013-2014), an Obie Award Special Citation for HABIT (2013), and a New York State Council on the Arts Individual Artists Commission for WOW (2014), and a MacDowell Colony Fellowship (2014). He was a Watermill Center Artist-in-Residence in 2010 and 2011.
Levine graduated from Cornell University in 1992 with a special-concentration degree in Intellectual History, and Harvard University with an M.A. in English Literature in 1996. He is Professor of Art and Director of Studio and Performing Arts at Bard College Berlin, and Professor of the Practice of Performance, Theater, and Media at Harvard University.