David Meltzer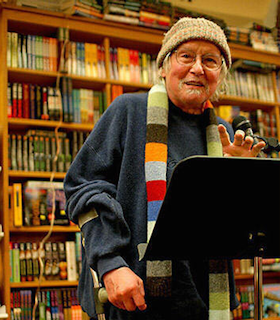 The grant allowed me that most precious commodity for a poet: time...
- David Meltzer, January 2010
Artist Statement
As a poet (& musician) the need to express is to always challenge & affirm boundaries; to break them down as well as build them up, differently. As a poet (& musician) the limits of each language to express beyond what's expressible is a profound challenge.
- December 2008
Biography
Poet David Meltzer began writing at age eleven and began his literary career during the San Francisco Beat Generation and Berkeley Renaissance. Early on in his career he combined his poetry and music. He recorded his words with jazz musicians as well as creating his own musical works. Meltzer continued to perform in and around the Bay Area with his wife, poet Julie Rogers until the time of his death.
Prior to his 2009 Grants to Artists award, Meltzer authored over 40 volumes of poetry including The Clown (1960), The Process (1965), Arrows: Selected Poetry, 1957 – 1992 (1994), No Eyes: Lester Young (2000), Beat Thing (2004), and David's Copy (2005). He had also published fiction and essays, and has edited anthologies and collections of interviews, including The Secret Garden: An Anthology in the Kabbalah (1976), Birth: Anthology of Ancient Texts, Songs, Prayers, and Stories (1981); Death: Anthology of Texts, Songs, Charms, Prayers, and Tales (1981); Reading Jazz (1993); Writing Jazz (1999); and San Francisco Beat: Talking with the Poets (2001).
With the support of his 2009 Grants to Artists award, Meltzer researched his projects Alphabet Museum, Bits, Spirit Gum, and Was It?, and spent two months on a cross-country reading tour with Michael Rothenberg and Teri Carrion. After receiving his 2009 FCA grant, Meltzer released When I Was A Poet (2011), a spiritual assessment of the meaning of a life spent writing poetry that meditates on love, loss, aging, and death. He also released an expanded version of his 1977 work Two-Way Mirror: A Poetry Notebook (2015), a unique instruction manual for writing and understanding poetry.
Since receiving his 2009 Grants to Artists award, Meltzer received the San Francisco Bay Guardian's Lifetime Achievement Award (2011). Prior to his 2009 FCA grant, he received a Grant for Literature from the National Endowment for the Arts (1974), the Oakland PEN Josephine Miles Award for Beat Thing (2006), and a Grant from the Haas Creative Work Fund (2007).
Meltzer was the lead singer and guitarist of the psychedelic folk-rock group Serpent Power, which was primarily active in the late 1960s. He taught in the Humanities and Graduate Poetics programs at the now-defunct New College of California in San Francisco for thirty years, between 1977 and 2007.