David Neumann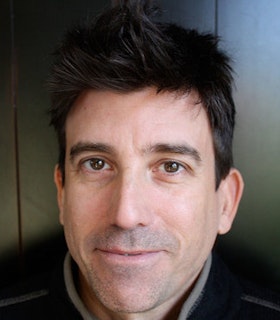 The FCA grant does away with trying to justify or rationalize one's approach to making art. I feel free to do what I will... The FCA grant sets the creative ball rolling in the best way. Being free of using 'grant speak' or any other kind of art jargon at the beginning of a process comes as a great relief to me personally, allowing me to listen to those deeper voices with ease.
- David Neumann, December 2011
Artist Statement
As artistic director of Advanced Beginner Group, I create "multi-disciplinary" dances from scratch, bringing to gesture, word and proximity a delighted embrace of our contradictory lives. I utilize experimental dance-making approaches with a humorous outlook and an inclusive layering of disciplines to create complex, thought-provoking dance works that push the form. I challenge my assumptions on 'how to make a dance' giving each work a distinct geography so that viewers can examine their own assumptions. These approaches are born of the belief that there is always something more to think and feel, always another mind to engage in surprising ways, always a valuable effort in trying to bend the habitual gestures around new shapes.
In rehearsal, I try to see through the categories by which we're taught to define art. The question of whether to call my work "multi-disciplinary" or "dance theater" or "post-whatever-you-want-to-add" steps directly in the path of seeing what's in front of me. I use the human body as the locus of my work, the mind as something always to consider. Life and art are most challenging when caught in the realm between thought and behavior, between describing one's life and experiencing it. The performance is a place where we can begin to unpack our contemporary lives––see it, feel it, laugh at it, engage the larger questions and become alert.
- December 2010
Biography
David Neuman is a choreographer and performer. Neumann has been a featured dancer in the works of Big Dance Theater, Jane Comfort, Irene Hultman, Susan Marshall, Sally Silvers, Cathy Weiss and club legend, Willi Ninja. He was a member of Doug Varone and Dancers and an eight-year original member and collaborator with the Doug Elkins Dance Company, with whom he toured nationally and internationally. He continues to perform and choreograph for theater, opera and film working with such directors as: Hal Hartley, Laurie Anderson, Robert Woodruff, Lee Breuer, Peter Sellars, JoAnn Akalaitis, Sam Gold, Mark Wing-Davey, Daniel Sullivan, and Sarah Benson.
As artistic director of Advanced Beginner Group, David Neumann's work has been presented in New York at Performance Space 122, New York Live Arts, The Kitchen, Central Park Summerstage (where he collaborated with John Giorno), Celebrate Brooklyn, Symphony Space (where he collaborated with Laurie Anderson), the Walker Art Center, Alverno College, and The Whitney Museum of American Art, among others.
With the support of his Grants to Artist award, Neumann created the dance Restless Eye (2012), in collaboration with writer Sibyl Kemspon and video and sound artist Tei Blow. His other projects include The Total Bent (2015) by Stew, An Octoroon (2014) at SOHO Rep, The Object Lesson (2014) at Brooklyn Academy of Music, I Understand Everything Better (2015) at Abrons Arts Center, and choreographing and performing solos and duets with Mikhail Baryshnikov.
Prior to his 2011 Grants to Artists, Neumann received a received a New York Dance and Performance "Bessie" Award for his work as a performer with Doug Elkins Dance Company (1991), a Princess Grace Fellowship in Theater (1993), a "Bessie" Award for It's Gonna Rain at Dance Theater Workshop (1998), a Rockefeller Foundation Multi-Arts Production Grant (2004), Meet the Composer Grant (with Eve Beglarian) (2007), and a Creative Capital Grant (2009).
Neumann received a B.F.A. from SUNY Purchase (1998). He has taught in the theater departments of New York University, Barnard College, and Yale University. He is currently professor of Theater at Sarah Lawrence College.