Dean Moss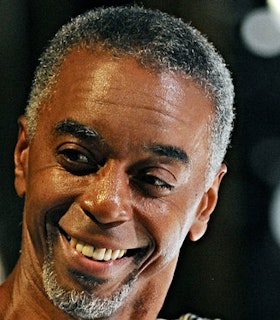 During this year the new work supplement premiered at Danspace Project to critical acclaim; the 2001 work american deluxe was toured in South Africa; the administrative infrastructure for the work's production was incorporated as a not-for-profit company named Gametophyte Inc... Amazingly, the effects of the grant have extended beyond this past year and into the future...
- Dean Moss, February 16, 2003
Artist Statement
I like science: biology, philosophy, quantum mechanics, stuff like that. I'm not so good socially. I like sex, but people are an acquired taste. I'm aging and think of mortality, of loss. Concepts interest me. Imagery interests me. Activities of falling involve me. I like doing. I like to do all, all at once. It's unconscious and confusing. I make mistakes. I panic. There's a fair amount of pain, physical and otherwise, and bliss...
Like blackfaced Astaire tapping a tattoo to Bill "Bojangles" Robinson while Noam Chomsky questions Cartesian concepts of body and Ginger asks, "How do you like my dress?" She doesn't mean what she says, she means something else, something about bodies and falling and loss and sex and science. She means something about simultaneity and something vaguely sinister, like what Einstein used to call "spooky action at a distance" and I call dancing.
- 2002
Biography
Dean Moss is a dance-based multidisciplinary theater and media artist, curator, and lecturer. His current research investigates perceptions of self and other through transcultural, multimedia performance collaborations that often incorporate audience participation.
With support from his 2001 Grants to Artists award, Moss premiered american deluxe (2001) at Smack Mellon and supplement (2002) at Danspace Project. Moss's collaborations following his 2001 FCPA grant include figures on a field (2005) with the visual artist Laylah Ali, which incorporated a docent led tour of the work during the performance and Kisaeng becomes you (2008-2009) with Korean traditional and modern dance choreographer Yoon Jin Kim, in which audience members were invited to embody the discipline and poetry of kisaeng—artist/courtesans of Korea's Joseon Dynasty. Moss's Nameless forest (2011) was a collaboration with Korean sculptor and installation artist Sungmyung Chun. Referencing Chun's imagery, the performance investigated existential narratives while engaging the audience in experiential rites of passage. Moss also has long ongoing collaborative relationships to writer and director Young Jean Lee and choreographer Yasuko Yokoshi.
johnbrown (2014) uses its presentation and pre-performance production to reflect not only on the controversial legacy of the white abolitionist but also the generational processes at play in the inquiry. A segment of the work was commissioned and presented in-progress under the title Voluntaries by The Museum of Modern Art. johnbrown in its entirety premiered at The Kitchen on October 16, 2014: the 155th anniversary of John Brown's raid on Harper's Ferry. The play featured an original script by Thomas Bradshaw, video performances by Tymberly Canale, Okwui Okpokwasili, Aaron Hodges, and Pete Simpson, and a score by Stephen Vitiello.
Subsequent to his 2001 FCPA award, Moss was honored with Asian Cultural Council Fellowships (2003, 2005), Multi-Art Production Fund Grants (2008, 2009, 2014), Maggie Allesee National Choreographic Center Residencies (2008, 2010), National Dance Project Grant (2010), National Endowment for the Arts Grants (2010, 2011), a New England Foundation for the Arts National Dance Project Grant (2013), a BRIC Arts Media Artist Residency (2014), The Kitchen Artist Residency (2014), a John Simon Guggenheim Memorial Foundation Fellowship (2014), and a Doris Duke Impact Award (2014), among others.Prior to receiving his 2001 Grants to Artists award, Moss had been recognized with a Multi-Art Production Fund Grant (1993), a New York Foundation for the Arts Fellowship in Choreography (1998), and a New York Dance and Performance "Bessie" Award for his work Spooky action at a distance (1999).
Moss came to New York from Tacoma, Washington on a Dance Theater of Harlem scholarship in 1979. He danced with David Gordon for ten years and has had a long relationship with The Kitchen; he served as the Curator of Dance and Performance from 1999 to 2004, then as a Curatorial Advisor through 2009. In 2002, he conceived an emerging choreographers composition workshop that was presented at The Kitchen, where it was facilitated in conjunction with Levi Gonzalez under the title Form & Practice. Additionally Moss was as a Visiting Lecturer in the Department of Visual and Environmental Studies at Harvard University from 2007 to 2009, for which he received a Certificate of Distinction in Teaching from the Derek Bok Center for Teaching and Learning.