Deborah Hay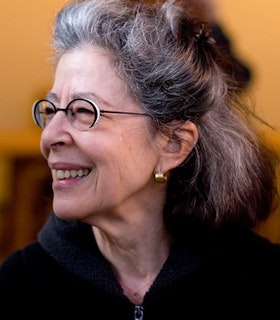 The grant... helped provide time and space, and more importantly, freedom from anxiety about how to fund the projects that engaged me this past year, despite the fact that my fees for these projects were already guaranteed. After refiguring my financial survival, year after year, for so many, I finally had breathing space from that conundrum.
- Deborah Hay, November 21, 2011
Artist Statement
Without it being my intention, dance has become a medium for the study and application of detachment. Actually, I prefer the term dis-attachment because it implies a more active role in letting go. The balance between loyalty and dis-attachment to that loyalty, sensually and choreographically, is how the practice of dance remains alive for me.
- December 2010
Biography
Deborah Hay is a dancer, choreographer, writer, and teacher. Her work focuses on large-scale dance projects involving untrained dancers, fragmented and choreographed music accompaniment, and the execution of ordinary movement patterns performed under stressful conditions.
After dancing with Merce Cunningham during a six-month tour through Europe in Asia in 1964, she left New York for Vermont and distanced herself from the performing arena, creating Ten Circle Dances, a piece performed on ten consecutive nights within a single community with no audience. Her first book, Moving Through the Universe in Bare Feet (1975), is an early example of her memory/concept mode of choreographic record. In the mid-1970s, Hay moved her attention to a set of practices "playing awake" that engaged the performer on several levels of consciousness at once. Her second book, Lamb at the Altar: The Story of a Dance (1994), documents the creative process that defined these works.
In the late 1990s Deborah Hay focused almost exclusively on solo dances based on her new experimental choreographic method. These works included The Man Who Grew Common in Wisdom (1989), Voilà (1995), The Other Side of O (1998), performing them around the world and passing them on to noted performers in the U.S., Europe, and Australia. In 2002 Hay made a decision to apply what she had learned from 30 years of working with mostly untrained dancers to choreographing dances for experienced dancers and choreographers. The Festival d'Automne, in Paris, presented The Match in 2005, "O, O" in 2006, and If I Sing To You, in 2008. Hay's more recent works include Up Until Now (2009), Lightening (2010), FCA-supported No Time to Fly (2010), Breaking the Chord (2010), Indivisibilites (2011), and FCA-supported As Holy Sites Go (2011).
Following her Grants to Artists, Hay received a Prior to her 2011 Grants to Artists, Hay received a Hay received a 2012 Doris Duke Artist Award. Prior to her FCA support, Hay received a New York Dance and Performance "Bessie" Award for her quartet The Match (2004), a BAX10 Arts and Artists in Progress Award (2007), an Honorary Degree of Doctor of Dance from the Theater Academy of Helsinki (2009), and an Austin Critics Table Award for Choreography (2010).
Hay studied at Brooklyn College (1959-1960). She is the artistic director of the Deborah Hay Dance Company.