devynn emory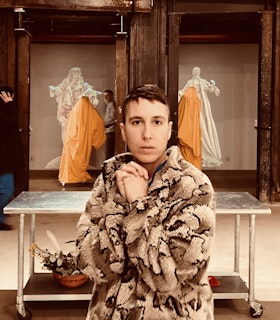 Artist Statement
my performance work is built on formal dance training embedding mathematical and mapped scores to navigate a deep-sown dyslexia due to disconnection and assimilation. as i practice re-finding earth and steadiness while shedding inherited colonized systems, i move to find what remains… pattern, texture, repetition, and story. i create environments to support bodies bleeding human truths, opening peepholes and revelations for a collective of performers and audiences in engaged togetherness, wading through common and segregate griefs and joys.
- December 2022
Biography
devynn emory is a choreographer/dance artist, dual-licensed bodyworker, and a holder of collaborative spaces gesturing to collective ritual. emory is also a medium, educator, and registered nurse practicing in the fields of acute/critical care, hospice, COVID-19, gender-affirming surgery, and integrative health in Lenapehoking (New York, NY). emory's performance company devynnemory/beastproductions finds the intersection of these fields, walking the edges of thresholds and drawing from their multiple in-between states of being. they hold space for liminal bodies bridging multiple planes of transition while finding reciprocity as a constant decolonial practice. 
emory's deadbird + can anybody help me hold this body (2021) and Grandmother Cindy + Cindy Sessions: LOVE, LOSS, LAND (2022) are part of a trilogy of works that center medical mannequins holding the wisdom of end-of-life experiences. these performances and films weave stories from patients and elders, inviting audiences into grief and somatic practice in collaboration with land. part 1, premiered by Danspace Project, New York, NY in 2021, was comprised of a film, deadbird, and can anybody help me hold this body, a public grief altar in Prospect Park, Brooklyn, NY, tended by emory and Joseph M. Pierce (Cherokee Nation). the work subsequently toured to Bartram's Garden, Philadelphia, PA; Portland Institute for Contemporary Art, Portland, OR; and SUNY Upstate Medical University and Colgate University, Syracuse, NY. part 2, Grandmother Cindy, a live performance and film, premiered at Artists Space in collaboration with Frieze New York, New York, NY; Cindy Sessons: LOVE, LOSS, LAND, a trio of films, premiered at Gibney, New York, NY. Part 3, boiling-rain, is forthcoming.
emory has been a United States Artists Fellow (2023), an Art Matters Artist2Artist Fellow (2022), and an Artist Research Fellow (2021-2022) and Kin & Care Research Group Fellow (2019-2020) at Danspace Project. deadbird + can anybody help me hold this body were supported by a Eureka Commission from Onassis USA and Danspace Project.  
since 2002, emory has run a private practice named sage that encompasses a variety of practices and teachings. born on Lenape Land, emory is of mixed settler/European ancestry on their matrilineal side and is a Lenape/Blackfoot descendent on their patrilineal side.