Dona Nelson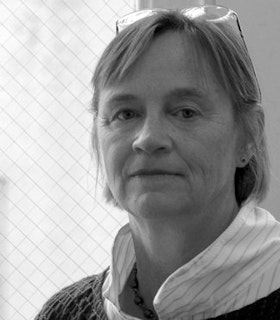 This grant came at a low point in my life, at an amazing moment, like a lifeline tossed to a floundering swimmer. It gave me, not just materials and time, but a huge boost of psychological affirmation. I am including a disk of some of the paintings that I have made this year. They are the strongest, most confident paintings that I have ever made. I feel that these paintings are just a beginning!
- Dona Nelson, November 24, 2011
Artist Statement
I have no over-riding ideology about Painting. I don't know how it relates to culture, because I can't see paintings in photographs. I am a woman, but I don't know how that fact impacts my studio practice. I think even mild, general, ideas about gender identity and other aspects of "identity" are inhibiting, indeed hostile, to artistic exploration. What my paintings are, in relation to who I am, remains a mystery to me.
My paintings do not serve words, even my own words.
In paintings, my own, and others, I am interested in imagination coupled with a quality of facticity.
I start my two sided paintings by stretching one side and working on it for a while, and then reversing the canvas on the stretcher and working on the other side for a while, and I work back and forth that way, until I feel that there is a front side of the painting and a back side. From then on, the front is always the front of the painting and the back is always the back of the painting, but I often continue to work back and forth from one side to another. I never try to "improve" one side of the painting independently of the other.
I do not consider these works to be deconstructions of the form, Painting, or sculptures, though one can walk around them. The sides of the paintings are often very different from each other, and that interests me—the way in which two very different visual and physical manifestations can be inseparable from, and, indeed, create each other.
- December 2011
Biography
Dona Nelson is a painter who works with both sides of the canvas, staining, soaking, painting, and stretching it until she decides which is the front. She often adds strips of painted fabric or painted string to the work, giving it another textural element.
In 2000, a survey of Nelson's work was shown at the Weatherspoon Museum of Fine Art, Greensboro, North Carolina. Nelson used funds from her Grants to Artists award to work on a series of large-scale paintings. She currently exhibits her work at the Thomas Erben Gallery in New York City, where she has had a solo show of her paintings in the spring of 2014. Two of her double-sided paintings were featured in the 2014 Whitney Biennial. Other solo exhibitions have been presented at Cheim and Read, the Pennsylvania Academy of Fine Arts, Philadelphia; Michael Klein Gallery, Scott Hanson Gallery, MoMA PS1, and Hamilton Gallery. Her work has been shown in group exhibitions at 80WSE Gallery at New York University, the Whitney Museum of American Art, the Aldrich Museum, Connecticut; Nassau County Museum of Art; Apexart, Mary Boone Gallery, Marlborough Gallery, Bronx River Art Center, Bard College, Canada Gallery, and Chashama.
Following her FCA support, Nelson received an Artist Legacy Foundation Award (2013). Prior to her 2011 Grants to Artists, Nelson received a Theodoran Purchase Award from the Solomon R. Guggenheim Museum (1971), a N.E.A Painting Grant (1987), a John Simon Guggenheim Memorial Foundation Fellowship (1994), and a Tesque Foundation Grant (2000).
Nelson received a B.F.A. from Ohio State University (1968), and studied at the Whitney Museum Independent Study Program (1967). She is a Professor of Painting and Drawing at Tyler School of Art, Temple University, Philadelphia, where she has worked since 1991.