Doug Elkins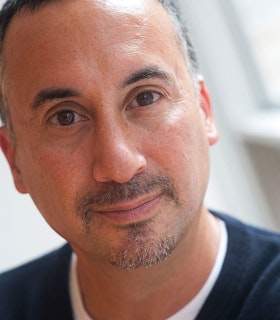 Artist Statement
It is always a challenge to transform something familiar into something new. I resist the notion that to be considered an artist, one must pull something out of a vacuum. I am interested in the collision of high art and low art, trash and treasure, in spinning the "Go Green" environmental movement in an unexpected direction by taking preexisting things and passing through them to find something entirely new. I am especially inspired by Robert Rauschenberg and his seminal Combine paintings of the 1950s, and believe his dyslexia to be an asset to the art, not a detriment, much the same way I believe in the positive influence of my own A.D.D. Nothing fits together and yet everything really does.
- 2014
Biography
Doug Elkins is a dancer and choreographer who began his career as a break-dancer, touring the world with break dance groups such as New York Dance Express and Magnificent Force, among others.
Elkins is the Artistic Director of Doug Elkins Choreography, Etc., established in 2009 to encompass independent dance, theater, and teaching projects. The pick-up company includes several performers and collaborators from Elkins' piece Fräulein Maria with the addition of theater directors Barbara Karger and Michael Preston. The company toured under the banner Doug Elkins and Friends to seventeen cities throughout North America from 2009 to 2012. The original Doug Elkins Dance Company, founded by Elkins, Ben Munisteri, Lisa Nicks and Jane Weiner, debuted at the 11 O'Clock News series at Dance Theater Workshop in 1987, and toured nationally and internationally for fifteen years.
Elkins has taught and choreographed extensively in the United States and Europe and has created original work for Israel's Batsheva Dance Company, Flying Karamazov Brothers, MaggioDanza, Pennsylvania Ballet, Union Dance and CanDoCo of London, as well as a number of university dance companies and Mini & Maxi of Holland. His theater work includes collaborations with Joanne Akalaitis, Philip Glass, Robert Woodruff, Pavel Dubrusky, Annie Hamburger, Molly Smith, Craig Lucas, David Henry Hwang, Barbara Karger, Michael Preston, Anne Kauffman, Arin Arbus, and, most recently Janos Szasz for The Master and Margarita at Bard SummerScape.
Subsequent to receiving his 1995 Grants to Artists award, Elkins received a Martha Hill Award for Career Achievement in 2006, and an Elliot Norton Award for Choreography (for Doug Elkins & Friends' Fräulein Maria) in 2010. Elkins is a two-time New York Dance and Performance "Bessie" Award-winning choreographer and 2012 John Simon Guggenheim Memorial Foundation Fellow. Previous to his 1995 FCPA support, Elkins was recognized with a Brandeis University Creative Arts Medal in 1994. Elkins is a recipient of choreographic commissions and awards from the National Endowment for the Arts, National Performance Network, Jerome Foundation, Choo-San Goh & H. Robert Magee Foundation, Dance Magazine Foundation, Metropolitan Life/American Dance Festival, Hartford Foundation, Arts International, and The Greenwall Foundation.
Elkins is a graduate of Purchase College, State University of New York and received his M.F.A in Dance from Hollins University/ADF in 2007. He previously taught at The Beacon School and in 2013, he joined the faculty at the Mason Gross School of the Arts at Rutgers University, the State University of New Jersey.