Douglas Kearney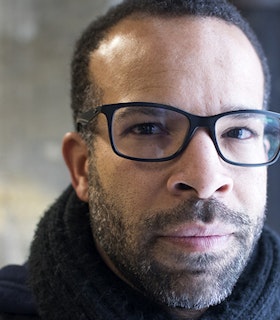 Since 2009, I have been unable to live anywhere in which I could afford an enclosed workspace besides a bathroom or an unconverted garage… The Foundation for Contemporary Arts Grants to Artists Award changed all of that. With the generous and completely unexpected windfall, my family was able to put a down payment on a new home in the Rondo neighborhood of St. Paul. The house has a room I will use as an office starting next summer. I am also planning on building a small recording booth in that future office promising better than minivan-level vocal recording quality…
- Douglas Kearney, December 20, 2019
Artist Statement
I seek a syntax that opens more than it closes. Something that haunts the ear with a slant strangeness. Yet, I want it occupied with language I heard growing up, from barbershops, boom boxes, latchkey TV, and my parents discussing books. Listening for how to compose these voices has pushed my poetics into reckonings with performance, forms nonce and inherited, typographic experimentation, repetition/revision, opera, and ideas about "double-jointed"—as opposed to "broken"—English.
At the locus of these technical explorations, which motivate me in part themselves, is an urgent concern about Black experiences of violence. In particular, I am compelled to examine where violence intersects with entertainment, how frequently that site is a Black person turned "body." In turn, I imagine my poems as a means of turning the page into a lexical and visual staging site of often tense, cultural juxtapositions and encounters.
- December 2018
Biography
Douglas Kearney is a poet and performer who has published six books and has been widely published in magazines and journals. Critical study of Kearney's work shares a chapter with Claudia Rankine in Anthony Reed's Freedom Time: The Poetics and Politics of Black Experimental Writing (Johns Hopkins University Press, 2015). His work has been further studied critically in numerous articles with topics ranging from the Middle Passage to cyborgs.
Kearney's Buck Studies (Fence Books, 2016) received the Theodore Roethke Memorial Poetry Prize, a CLMP Firecracker Award, and was silver medalist for the California Book Award in Poetry. Patter (Red Hen Press, 2014), which examines miscarriage, infertility, and parenthood, was a finalist for the California Book Award in Poetry. Kearney's other published works include Someone Took They Tongues. (Subito, 2016), Mess and Mess and (Noemi Press, 2015), and The Black Automaton (Fence Books, 2009).
His work has appeared in a number of anthologies including The Creative Critic: Writing as/about Practice (Routledge, 2018), The BreakBeat Poets: New American Poetry in the Age of Hip Hop (Haymarket Books, 2015), What I Say: Innovative Poetry by Black Writers in America (The University of Alabama Press, 2015), Wide Awake: Poets of Los Angeles and Beyond (Beyond Baroque Books, 2015), Best American Experimental Writing (2014), The Best American Poetry (2014, 2015), and Kindergarde: Avant-Garde Poems, Plays, Stories, and Songs for Children (Black Radish Books, 2013). Kearney has been published in magazines and journals including Boston Review, boundary 2, Brooklyn Rail, Callaloo, Hyperallergic, Indiana Review, The Iowa Review, Jacket2, Lana Turner, Obsidian, Pleiades, and Poetry. Kearney has performed at the American Jazz Museum in Kansas City, MO; Los Angeles Contemporary Exhibitions and Visitor Welcome Center in Los Angeles; and at Temple Contemporary, Tyler School of Art in Philadelphia. As a librettist, Kearney has had three operas staged. Crescent City, composed by CalArts' Anne LeBaron, was the inaugural production of Yuval Sharon's The Industry. Sucktion, also a collaboration with LeBaron, has been performed internationally. Mordake, composed by Erling Wold, had its premiere in San Francisco.
Kearney is a recipient of a Whiting Award, as well as residencies and fellowships from Cave Canem and the Robert Rauschenberg Foundation. Kearney received a B.A. from Howard University and an M.F.A. from the California Institute of the Arts. He taught at the California Institute of the Arts for twelve years, and is currently a member of the English and Creative Writing faculty at the University of Minnesota, Twin Cities.