Douglas Messerli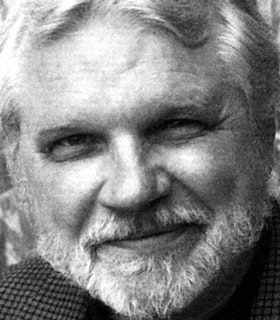 In 2000-2001—the year of that generous grant—I began and even larger work, influenced perhaps by Gertrude Stein's several 'portraits'... I sent several poets a letter explaining... Between: Letters to Poet Friends...
- Douglas Messerli, September 4, 2008
Artist Statement
Over the years I have come to understand my work more as a performative act than a series of discrete writings. My publishing (both on Sun & Moon Press and Green Integer) is part of my poetic activity, as well as my fictions, performative works, dramas, and collections of poetry. Just as publishing is an activity of community (a community of the author, publisher, editor, and readers) so has my writing been primarily a series of community or communal actions. The very subtitles of my works—"A Dialogue," "An Opera for Spoken Voices," "A Fiction for Film in Poetry,"—reveal the performative and communal qualities of the works. And more recently, I have written works that actually involve other poet friends and their writing. Simultaneously, my work explores, through numerous pseudonyms, the communities of oneself, the different aspects of a single being.
- 2003
Biography
Douglas Messerli is a writer, editor, publisher, and professor. In 1976 he founded Sun & Moon Press, which was devoted to publishing experimental poetry, fiction, and drama, until it closed in 2004 and Messerli opened Green Integer.
Messerli's collections of poetry published before his 2002 FCPA grant include Dinner on the Lawn (1979), Some Distance (1982), River to Rivet: A Manifesto (1985), Maxims from My Mother's Milk (1988), and After (1998). As a playwright, under the pseudonym Kier Peters, Messerli has written numerous plays including The The Confirmation (1993) and Past Present Future Tense (1994). Messerli continues to write his annual cultural memoirs, publishing My Year 2003 in book form and My Year 2002 online. Messerli's 2002 Grants to Artists award supported the writing and publication of My Year 2002. FCPA-supported Bow Down (2002) features Messerli's poetry accompanied by the art of John Baldessari.
Since his 2002 Grants to Artists award, Messerli has authored the collections of poetry First Words (2005) and Dark (2012), and the plays A Dog Tries to Kiss the Sky: Six Short Plays (2004) and Wonder (2013). His work has appeared in such publications as the Paris Review, New American Writing, Lowlands Review, Rhizome, Sideshow, Painted Bride Quarterly, and Conjunctions. He frequently publishes reviews, essays, and other information on his six blogs, as well as in national and international journals such as Rain Taxi, Sibila (Brazil), Nth Position (England), and elsewhere. Messerli has read and performed at venues including St. Mark's Literary Center, San Francisco State University, The John F. Kennedy Center for the Performing Arts, Los Angeles Poetry Festival, Los Angeles County Museum of Art, and Museum of Contemporary Art, Chicago.
In 2004, after his 2002 FCPA grant Messerli was named Officier of the Order of Arts and Letters by the French Government. Prior to his 2002 Grants to Artists award, Messerli received an American Literary Translators Association Award for Contributions to Translation, a National Poetry Series Biennial Harry Ford Editor's Award for Poetry (1994), and a National Book Award for Publishing (1998).
Messerli graduated with a B.A., an M.A., and a Ph.D. in English from the University of Maryland, in 1969, 1974, and 1979, respectively. He has taught at Temple University, Occidental College, California Arts Institute, Otis College of Art and Design, and California Institute of Technology.