Edward Sanders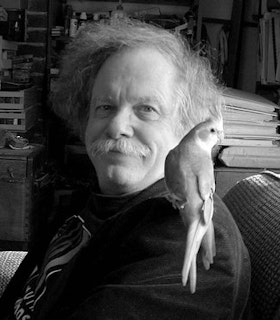 The grant helped give me what I need most at this stage of my career—time, quiet, and peace. Being honored with such distinguished creative artists helped me give the confidence to take on two difficult writing projects… Thanks to the Foundation I could work on the books for much of each day.
- Edward Sanders, January 1998
Artist Statement
In my poetry I have attempted to bring to bardic life the exhortations contained in my manifesto, Investigative Poetry. Thus my book length biography in poetry of Allen Ginsberg, as well as the nine-volume America a History in Verse, both reflect my passion for Investigative Poetry.
- 2014
Biography
Edward Sanders is a poet, historian, and musician. Sanders took up concerns of Beat poetry and the 1960s countercultural movement in his work. He writes research-driven investigative poetry, at times taking biography as his subject.
From 1998 to 2011, Sanders wrote the nine-volume America, a History in Verse. Portions of this manuscript were supported by Sanders's 1997 Grants to Artists grant. His books of prose include A Book of Glyphs, Tales of Beatnik Glory (1990), The Family (1971), a history of the Charles Manson murder group, Chekhov (1995), a biography in verse of Anton Chekhov, and Fug You: An Informal History of the Peace Eye Bookstore, the Fuck You Press, the Fugs, and Counterculture in the Lower East Side (2011).
Other publications include Investigative Poetry, (1976) 1968, a History in Verse (1997), FCPA-supported The Poetry and Life of Allen Ginsberg (2000). His selected poems, 1986-2008, Let's Not Keep Fighting the Trojan War (2009), was published by Coffee House Press. Sanders' collections of poetry include Poem from Jail (1963), Poems for New Orleans (2008), and Thirsting for Peace in a Raging Century: Selected Poems 1961-1985 (2009).
Previous to his FCPA grant, Sanders received a John Simon Guggenheim Memorial Foundation Fellowship (1983), and a National Endowment for the Arts Grant (1987).
Sanders earned a B.A. in Ancient Greek at New York University. He founded and published Fuck You: A Magazine of the Arts and opened the Peace Eye Bookstore in the 1960s. For eight years he published the Woodstock Journal, a biweekly newspaper. In addition to writing, Sanders is the founder of the satiric folk-rock group The Fugs, which has released many albums during its nearly fifty-year history.