Edwin Torres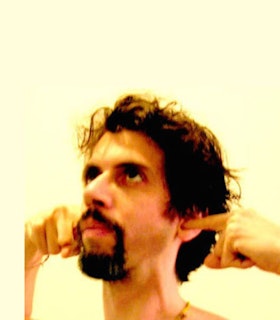 The main thing the grant gave me was time. Time to continue what was there already. Time to let an idea brew, change... there was an organic approach to the creative process that I was able to have with various projects that let me give them the time they needed, to change, focus, and direct towards their ultimate conclusion.
- Edwin Torres, February 13, 1997
Artist Statement
I have always written about process and it's mainline into motion. Cultivated from my early days as a performer, where the audience unleashed its magnetic dialogue with me onstage, I learned the value of vibration and connection. When I found my lineage on the shoulders of Futurism, Mayakovsky, and Ernie Kovacs, I discovered that unbridled creativity was at the core of humanity, my poetry became shaped by the making of its own communication, its formation of language out of sound and vice versa, by the how at the core of the why. I've subsequently settled into a diaspora of edge as center, that is, the exploration of what lies at the beginning of what I'm trying to say, what you are trying to hear—the physicality of language, a permeable territory traveled between us, infinite with mistake and wonder. Maybe something new as well, but the fact of your acknowledging your own beyond is what I'm going for. My current work is ongoing in its search for edge, a continued category of event, much like life—a story allowed to infiltrate syncopation, much like poetry.
- 2014
Biography
Edwin Torres is a poet whose performances and live shows combine vocal and physical improvisation and theater. He began creating text and performance work in 1988 under the banner "I.E. Interactive Eclecticism," a purposefully broad term for a movement that created a forum for his one-man variety shows. His discovery of the Nuyorican Poets Café and The St. Marks Poetry Project in 1990 influenced his developing poetic style.
Torres is the author of the collections Ameriscopia, One Night: Poems For The Sleepy, Yes Thing No Thing, In the Function of External Circumstances, The PoPedology of an Ambient Language, FCPA supported Please, and Onomalingua: noise songs and poetry, The All-Union Day of the Shock Worker, and Fractured Humorous; the chapbooks Lung Poetry (with photographs by Luigi Cazzaniga), Ilusos, I Hear Things People Haven't Really Said, and SandHomméNomadNo. His recordings include Oceano Rise, Novo, and FCPA-supported Holy Kid. His work has been widely anthologized in volumes such as Angels of the Americlypse: An Anthology of New Latin@ Writing, Postmodern American Poetry, American Poets in the 21st Century: The New Poetics Vol. 2, A Companion to Latina/o Studies, Role Call, and Aloud: Voices From The Nuyorican Poets Café, among others.
Torres has performed at The Nuyorican Poets Café, The Solomon R. Guggenheim Museum, Performance Space 122, The Museum of Modern Art, and Dixon Place. His visual poetics have been exhibited at Exit Art, Elizabeth Foundation for the Arts Project Space, a graphic retrospective "Poesís: The Visual Language of Edwin Torres" at the Center for Book and Paper Arts in Chicago, and his CD Holy Kid was included in the Whitney Museum's exhibit The American Century: Art and Culture 1900-2000, Part II, 1950-2000, (1999-2000). He has been a featured guest writer for the Poetry Foundation's blog "Harriet."
Torres has received grants and fellowships from the New York Foundation for the Arts and The Poetry Fund. He has been a writer- or artist-in-residence at the Lower Manhattan Cultural Council, Dia Arts Foundation, Kimmel Arts Center, Sydney Arts Festival, and LiteraturWERKstatt in Berlin. He has also been awarded the Nuyorican Poets Café Fresh Prize for Poetry. He is co-editor of the journal Rattapallax.