Ei Arakawa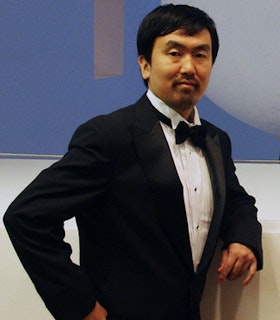 Thanks to this generous grant, I was able to increase the stability of living in the U.S.I applied for a green card this year after staying in New York for fourteen years. I am expecting to be accepted by May 2013. I am happy to continue engaging with this city's creative and stimulating cultural productions and communities. Also because of the grant, I was able to engage in several major projects this year, including a one-week performance and five-month group show at Tate Modern… I participated in the Sao Paulo Biennale, and managed to produce three solo shows in both national and international cities such as in Vienna, Los Angeles, and New York.
- Ei Arakawa, January 2013
Artist Statement
I am currently working on a series of performance projects relating to Japan's nuclear crisis and its relevance, and irrelevance, in the New York art world. Because my brother runs a sun-tanning salon in Iwaki, Fukushima, he and his business (United Brothers) are the main collaborators of this project. Das Institut (artists Kerstin Brätsch and Adela Röder) and artist Sergei Tcherepnin have been collaborating with us as well, employing various sun-tanning machines as sources of inspiration as well as actual installation material, both visual and audio. Last summer we participated in a semi-traditional dance festival in Iwaki, Fukushima, and subsequent performances were held in cities such as Zurich, Lüneburg, Germany, Tokyo, and Chicago. I would like to continue this collaboration in other cities as well.
- December 2011
Biography
Ei Arakawa is a performance artist whose practice incorporates installation and film, and often involves friends, random passersby, and other artists. Arakawa and his brother Tomoo Arakawa frequently collaborate under the moniker United Brothers on projects that investigate both the present and history of Fukushima, Japan.
For the 2014 Whitney Biennial, Arakawa worked with Carissa Rodriguez to create Hawaiian Presence, a collaborative, performative installation that focused on fantasies and clichés of the Pacific Rim. Arakawa created three sculptures––that could be worn as hats for the live events––representing the islands of Manhattan, Kauai, and the Big Island of Hawaii. Funds from Arakawa's Grants to Artists supported his one week performance and five month group show JOY OF LIFE and SINGLES NIGHT, at the Tate Modern, London (2012).
Arakawa's work has been shown in numerous solo exhibitions internationally at Franco Soffiantino Contemporary Art Productions, Turin; The Front Room: Artist's Projects at the Contemporary Art Museum St. Louis; Taka Ishii Gallery, Kyoto; Sculpture Center, Queens; Kunsthalle Zürich, Switzerland; and Galerie Meyer Kainer, Vienna.
Arakawa's work has been featured in group exhibitions at The Museum of Modern Art, the New Museum, Artists Space, White Columns, MoMA PS1, Anthology Film Archives, Printed Matter, Performa05, Greene Naftali Gallery, Frieze Art Foundation, Japan Society Gallery, and the Institute of Contemporary Art, London.
Prior to his 2012 Grants to Artists, Arakawa received The Altoids Award from the New Museum (2008), a Visual Art Grant from The Rema Hort Mann Foundation (2010), and an Artists' Fellowship from the New York Foundation for the Arts (2009), and completed a an International Creator Residency Program at the Tokyo Wonder Site, Tokyo, Japan (2011).
Arakawa received a B.F.A. in Fine Arts from the School of Visual Arts (2004) and an M.F.A. in Film/Video from Bard College (2006). In that same year he completed the Studio Program at the Whitney Museum of American Arts Independent Study Program. Arakawa has lectured at the School of Visual Art, Hunter College, The National Museum of Art, Osaka; and the Mori Art Museum, Tokyo.