Eileen Myles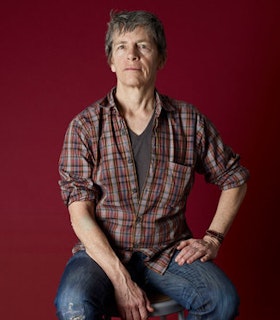 I've used my grant money to work on four different projects. The first is the major new work I was involved with in 2013-14, which is Afterglow (a memoir), is basically a fantastic story about a dog... Simultaneously I've been editing my selected poems... I've also been [working on] a reissue of a 1994 novel Chelsea Girls... Finally I have been writing new poems...
- Eileen Myles, December 12, 2014
Artist Statement
Writing poems for me is a way of doing a landscape of inside and out at once. Recording a lot which I need to do. I probably would have been happier as a visual artist or a dancer but I also have a compulsion to be secretive until later on. I like to collect things, to travel, to accumulate a vista of thought, history, and even confession. It strikes me too that poetry is a hub for other kinds of writing and performance and actions. So, it's compelled me toward being a novelist, an art journalist, playwright, and librettist. It all seems like the same thing to me and different responses to different situations and different shaped work but the fountain is poetry, the breath and the spurt. Currently I'm writing new poems, always, editing yet again my selected poems and writing Afterglow, which is a fantastic lament about a dog.
- December 2013
Biography
Poet, writer, and teacher Eileen Myles is the author of eighteen books of poetry, fiction, and non-fiction. Myles's works include the poetry collection Snowflake/different streets (2012) and the novel Inferno (a poet's novel) (2010). Myles's essay Street Retreat was included in the Semiotext(e) installation at the 2014 Whitney Biennial, and their essay Twice appeared in the catalogue of the 2014 Liverpool Biennial. During their FCA grant year, Myles's poems were published in Best American Poetry, Poetry Magazine, Frieze, American Reader, Prelude, and The Recluse. With the support of their FCA grant, Myles released I Must Be Living Twice: New and Selected Poems 1975 - 2014 (2015) and a reissue of their 1994 novel Chelsea Girls (2015).
Since their 2014 Grants to Artists award, Myles received the 2015 Clark Prize for Excellence in Arts Writing. Prior to receiving their FCA grant, Myles received a Creative Capital Art Writers Grant from The Andy Warhol Foundation (2007), a Shelley Prize from the Poetry Society of America (2010), a John Simon Guggenheim Memorial Foundation Fellowship (2012), and a Lambda Book Award for Lesbian Fiction (2011).
Myles is a professor emeritus of Writing at the University of California, San Diego; and adjunct professor at New York University and Columbia University. They received their B.A. in English from the University of Massachusetts Boston in 1971.