EJ Hill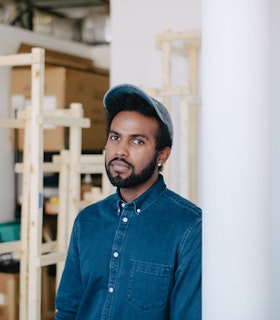 For all hours that the Hammer Museum was open to the public [during Made in L.A. 2018,] (6 days a week for 3 months) I stood—without breaks for food, water, or bodily functions—on a sculpture modeled after an Olympic podium... funds from my Grants to Artists Award was used to sustain my body and my life while I endured the most ambitious art action I have ever attempted... Now that I am 3 months off of the Made in L.A. performance (the exact amount of time that I was on it), I am slowly coming back to myself, slowly beginning to see the contours of a life of the working artist—a life I have been diligently moving toward all of these years. Receiving the Grants to Artists Award was the spark that ignited a blaze that, of course, does not need to swell with apocalyptic force, but one that I hope remains fueled long enough for warmth and illumination throughout my journey.
- EJ Hill, December 21, 2018
Artist Statement
I am an artist committed to authoring objects, images, and experiences which elevate bodies and amplify voices that have long been rendered invisible and inaudible by oppressive social structures. Rooted in an endurance-based performance practice, my work focuses largely on challenging the social aspects and systems that construct a body. I am interested in how bodies are formed, understood, and valued within different social and cultural contexts, but more specifically, how they redefine the parameters that govern which bodies are allowed to exist freely.
Initially, performance seemed the most natural and direct way of addressing ideas pertaining to the body; however, over the years I have developed my practice to include writing, painting, sculpture, and installation. This multi-faceted methodology has provided me new ways of articulating propositions for being, while still maintaining a foundation of critique of oppressive social structures.
At its core, my current artistic output is steeped in a desire to move beyond representations of pain, violence, and struggle—aspects central to the experiences of subjugated communities, undoubtedly—and closer to more rounded, complex representations which include the aforementioned, but also allows room for excellence, beauty, and bliss.
- December 2017
Biography
EJ Hill is an artist whose practice incorporates painting, writing, installation, and performance as a way to elevate bodies and amplify voices that have long been rendered invisible and inaudible by oppressive social structures. This multifaceted approach often stems from an endurance-based performance practice in which Hill pushes his physical and mental limits as a way to expand the conditions, parameters, and possibilities that determine a body.
After receiving his FCA support, Hill presented Excellentia, Mollitia, Victoria at the Hammer Museum's Made in L.A. 2018 biennial, in which he stood unmoving on a plinth in the gallery for the duration of the exhibition. In 2018 Hill also received an Artadia Award, as well as support from the Joan Mitchell Foundation.
Hill's work has been presented domestically and internationally in exhibitions including Rendez-vous/14th Lyon Biennale, Institut d'Art Contemporain, Villeurbanne/Rhône-Alpes, France (2017); Artists of Color, The Underground Museum, Los Angeles (2017); Future Generation Art Prize, 57th Venice Biennale, Venice, Italy (2017); The Necessary Reconditioning of the Highly Deserving, Commonwealth and Council, Los Angeles (2017); and Tenses: Artists in Residence 2015-16, The Studio Museum in Harlem, New York (2016).
Hill is the recipient of an Art Matters Foundation Award (2017); The William H. Johnson Prize (2016); and a Fellowship for Visual Artists from the California Community Foundation (2015). He was shortlisted for the Future Generation Art Prize from the Victor Pinchuk Foundation (2017), and was an Artist-in-Residence at The Studio Museum in Harlem (2015-16).
Hill received an M.F.A. from University of California, Los Angeles (2013) and a B.F.A. from Columbia College Chicago (2011).