Elizabeth Robinson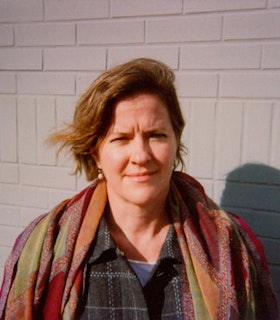 ... at a time when I felt exhausted and demoralized, the vote of confidence that the Foundation supplied helped me to return to my writing and to a community of writers to learn and make poems and participate fully.
- Elizabeth Robinson, December 29, 2008
Artist Statement
I understand the writing of poetry as processual and exploratory, not as a means of landing upon ultimate discovery. In a sense, I find that writing poetry, like the practice of any art, maximizes a sense of suspension during which my/our usual conclusions are held at bay and I/we can enter a different mode of attentiveness. Lately I have been experimenting with writing as less an act of utterance than of listening. My sustaining preoccupations have been with spirituality, ethics, and the formation and operation of community. Trying to attend to these closely enables me to participate in the problems and opportunities afforded by a wrestling with spiritual or ethical issues, and with the day to day vexations and pleasures of living in the world with other humans and sharing language with them.
- December 2007
Biography
Elizabeth Robinson is a poet and teacher. Much of her poetry deals with mythical, theological, and ethical questions.
Robinson's 2008 Grants to Artists award supported her books of poetry Also Known As (2009) and On Ghosts (2013). On Ghosts is part poetry collection and part essay that investiages themes of ghosts and hauntings. Her works published since receiving her 2008 FCA grant include Three Novels (2011), Blue Heron (2013), and Counterpart (2012).
Robinson has also been active in several small press publishing projects: she edited FCA-supported EtherDome chapbooks with Colleen Lookingbill; the press published chapbooks by women who did not have prior book or chapbook publications. With Beth Anderson, Laura Sims, and Susanne Dyckman, Robinson co-edits Instance Press, publishing innovative poetry. With Steve Seidenberg, she co-edits the literary periodical pallaksch.pallaksch.
Robinson's FCA-supported On Ghosts (2013) was a finalist for the Los Angeles Times Book Award. Subsequent to her 2008 Grants to Artists award, Robinson received a grant from the Boomerang Fund; she was a resident artist at the Marin Headlands Center for the Arts (2013) and the Djerassi Resident Artists Program (2012); and she was the Hugo Fellow at the University of Montana (2012-2013). Robinson's honors prior to her 2008 FCA grant include a grant from the Fund for Poetry (1989) and three Gertrude Stein Awards for Innovative Poetry (1994, 1995, 2006). Robinson won the National Poetry Series for Pure Descent (2003) and of the Fence Modern Poets Prize for Apprehend (2003).
Robinson earned a B.A. in Literature and Psychology from Bard College in 1985; an M.A. in Creative Writing from Brown University in 1987; and an M.Div. and an M.A. in Ethics from Pacific School of Religion, in 1995 and 1999, respectively. She has taught at University of Colorado and Naropa University. She works at a day center for the homeless in Boulder.