Eve Beglarian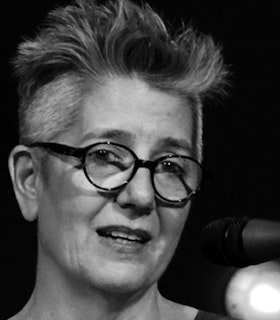 I am writing with deep thanks for the gift of the Robert Rauschenberg Award from FCA in 2015, which had an incalculable impact not only on my life and work this year, but has planted seeds that I believe will be bearing fruit for years to come... In a way, this unexpected gift was destabilizing. It opened up space for me to try new things, see the world differently. I started writing words for performance, something I have not taken seriously before now. I began making visual art projects, something I had never even considered doing... The work I have made this year is only the inchoate beginning of a new direction in my work and in my life. I hope to be able to share the fruits of these explorations for years to come.
- Eve Beglarian, January 19, 2016
Artist Statement
At the moment, I am working on four different projects that span very different interests and obsessions.BRIM: The River Projectis a touring ensemble I have created to perform the music inspired by my human-powered trip down the Mississippi River in 2009. I am creating more work in that already expansive repertoire, and plan to publish and tour more from the project in the coming years.Descentis a musical with songs that feel more like electronica thanCarousel. A collaboration with Phil Kline in its original song-cycle incarnation, it is now being developed as an immersive theater piece about love and ambition, with a book by P.J. Griffith.A Book of Daysis an ongoing project of multimedia pieces, one for each day of the year that I post for free on the Internet. Inspired by medieval books of days, I offer users a contemplative musical thought for each day. I have about 100 of these pieces so far, and aim to post twelve more each year. I am beginning work on a project based on the relationship between my mother and a convicted murderer, both of whom are now dead. I have access to their complete correspondence, along with trial transcripts, and other background to the story. I plan on making a large piece that explores race, class, rage, and friendship, though I currently have no idea what form the piece will actually take.
- December 2014
Biography
Eve Beglarian is a composer, performer, and audio producer. In 2009, Beglarian traveled down the Mississippi River by kayak and bicycle, a journey documented and explored in much of her recent work. She created BRIM, an ensemble dedicated to performing the repertoire of The River Project. Other major projects include the music-theater piece Descent and the long-term project A Book of Days that aims to create multimedia pieces of text, music, and visuals for each day of the year.
With the support of her 2015 Grants to Artists award, Beglarian traveled throughout the United States to meet with artists, including Juanita Leonard, who, Beglarian explains, "... has a roadside church near Montgomery, LA, where she makes art and ministers to outcasts. With my friends and colleagues Matt Petty and David Steele, I have spent a great deal of time with Juanita, attending, serving, and performing at her church, getting to know her congregation, and having many long conversations." In 2015, Beglarian also continued to build her project A Book of Days and created works based on her experiences during her travels. These pieces include Dust (2015), featuring the Prophet Isaiah Henry Robinson, and You Look for Truth Deep Within Me (2015), in memory of Sandra Bland.
Beglarian's concert music has been commissioned by the Los Angeles Master Chorale, the American Composers Orchestra, the Bang on a Can All-Stars, the Chamber Music Society of Lincoln Center, the Voices of Ascension, and the Paul Dresher Ensemble, among many others.
Beglarian's compositions for music theater include music for Animal Magnetism (2000), Mabou Mines' Obie Award-winning Dollhouse (2009), Ecco Porco (2002), Choephorai (2006), and Shalom Shanghai (2013), all directed by Lee Breuer; Forgiveness (2000), a collaboration with Chen Shi-Zheng and Noh master Akira Matsui; and the China National Beijing Opera Theater's production of The Bacchae, also directed by Chen Shi-Zheng (1996).
Beglarian has collaborated with a number of choreographers, including Ann Carlson, Robert La Fosse, Victoria Marks, Susan Marshall, David Neumann, and Take Ueyama; and with visual and video artists including Cory Arcangel, Anne Bray, Vittoria Chierici, Barbara Hammer, Kevork Mourad, Shirin Neshat, Bradley Wester, and Judson Wright. Recordings of Eve's music are available on the labels Koch, New World, Cantaloupe, Innova, Naxos, Kill Rock Stars, and on ECM.
Previous to receiving her 2015 Robert Rauschenberg Award, Beglarian received grants from Meet the Composer, the Rockefeller MAP Fund, a Greenfield Prize (2009), and a McKnight Visiting Composer Fellowship (2009).
Beglarian received her B.A. from Princeton University in 1980 and her M.A. from Columbia University in 1983.