Faye Driscoll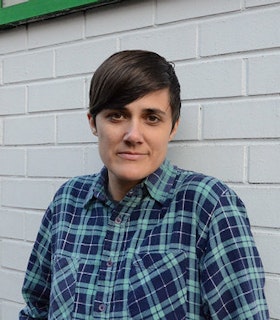 Since receiving the award from the Foundation for Contemporary Arts, my life as an artist has seen incredible growth, both creatively and personally. [The grant] has provided confidence and peace of mind as I push myself to new levels of personal growth and creative ambition.
- Faye Driscoll, December 20, 2013
Artist Statement
I make dances that are mistaken for plays and load-in like installations. Sets are designed to break apart, musical scores are made from performers' stomps and voices, props are worn, used and reused for fantasy, excess, and loss. Performers sing, fight, frolic and make love in bursts, like rapid fire flip-books of human emotion. Awkward virtuosic bodies teeter on the edge of high art and slapstick. A viewer feels a rollercoaster of joy, outrage, arousal and discomfort while performers hold a frank gaze that says, "You are me and I am you." Embarrassment and exhilaration live side by side. I aim for an immersive world of sensorial complexity and perceptual disorientation. Through performers' powerful exposure, heightened proximity, and at times physical connection with the audience, viewers feel their own culpability as co-creators of the performance. My work is a rigorously crafted group experience that comes off as improvised, chaotic and spontaneous.
- October 2015
Biography
Faye Driscoll is a choreographer and director whose work is rooted in an obsession with the problem of being "somebody" in a world of other "somebodies" and all of the conflicts and comedy born in our interactions with others.
Driscoll's works include Wow Mom, Wow a post-modern/pop musical/death metal fantasy (2007); 837 Venice Boulevard, an autobiographical work taking place in a theater within a home (2008; Bessie Award); There is so much mad in me, an exploration of ecstatic states, (2010); You're Me, a duet distorted by props, paint and manic costume shifts, (2012); and she is currently at work on Thank You For Coming, an FCA-supported series that implicates the audience in the work and invites the sensation of co-creation.
Driscoll's work has been commissioned by and presented at such venues as Walker Art Center, Wexner Center for the Arts, Institute for Contemporary Art/Boston, Danspace Project, HERE Arts Center, The Kitchen, Dance Theater Workshop, American Dance Festival, Fusebox Festival, UCLA, CounterPULSE, and The Yard. She is one of the only dance artists exhibited in Younger Than Jesus, the first in a series of triennials at New Museum, and her work was included in NYC Makers: The MAD Biennial, the first biennial at the Museum of Arts and Design. In February 2015, Driscoll toured You're Me to Theatre Vanves in France through FUSED. Driscoll has also collaborated, and continues to collaborate, with theater and performance artists including Young Jean Lee, Cynthia Hopkins, Taylor Mac, Jennifer Miller, and the National Theater of the United States of America. She was one of the only dance artists exhibited in Younger Than Jesus, the first in a series of triennial exhibitions at the New Museum, and her work was in included in the first biennial at the Museum of Arts and Design, NYC Makers: The MAD Biennial (2014).
Following her FCA recognition, Driscoll received a John Simon Guggenheim Memorial Fellowship (2013), a Creative Capital performing arts award (2013), New York State Council on the Arts grant (2013-2015), a Lower Manhattan Cultural Council grant (2013-2015), a Bogliasco Fellowship (2014), a MAP Fund Grant (2014), and a French-US Exchange in Dance grant (FUSED) (2015). Prior to her 2013 Grants to Artists, Driscoll received grants from the Greenwall Foundation (2008-2010), New England Foundation for the Arts' National Dance Project production and touring award (2010, 2014), and The Jerome Foundation (2012-2014).
Driscoll has been a choreographic fellow at Maggie Allesee National Center for Choreography (2011), an Artist-in-Residence at Baryshnikov Arts Center, (2012) Park Avenue Armory (2013), The Performing Garage Presents (2014-2015), and Mass Live Arts (2015). She received her B.F.A. from Tisch School of the Arts at New York University.