Fiona Templeton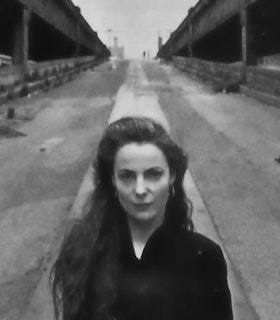 What has been most invaluable about the grant is the possibility of spending time on both
 the germination or building stages of work and on the afterlife of this evanescent medium of performance... Particularly because I work on large pieces that take time, I am extremely grateful to the Foundation for its emphasis on the fact that the artist knows the best use of the grant.
- Fiona Templeton, March 21, 2004
Artist Statement
Each work I make seems in some ways completely different to the last: a solo in dialogue with a video monitor; a citywide play for an audience of one, using sites throughout a city and twenty performers; an installation of a continuous strip of writing in an abandoned prison; a stage epic, tiny poems. Sometimes I take a very long time to make a work, and sometimes it happens only the moment of performance, as in a game. For me the continuity is in taking each idea as far as I can travel with it. Form arises differently for each question, genre a tool among many.
My materials are time and attention, as much as the body, space, and language.
Performance and poetry as a necessary combination. The embodiment of experimental language in a live moment with a hearer gives it its own likelihood as speech. And anyone might hear. Poetry as ecstatic language, theatre as its politicization. In the mouth, poetry approaches music; in the ear, a music shaped of attention; played between several mouths and ears, space as part of the instrument, including the dimensionality of involvement.
Theatre as the art of relationship, boundaries of definition between audience and performance crossed both ways. Multiple points of view and multiple point-of-view.
Performance and theatre at their utmost and at their intersections. All the elsewhere of artifice and all the here of ourselves. The complex contour between them drawn mutually along the time of a performance.
In art, at any moment a corner might be turned. With the freedom, alertness. This edge as beauty.
- 2003
Biography
Fiona Templeton's work ranges across various disciplines. Her performance work is born of a conceptual investigation of theatre as a total medium—language, space, and time, and as an "art of relation," in particular in its thinking of the audience. It ranges in scale from solo to citywide works, and uses densely poetic and innovative language.
Templeton's YOU—The City, an intimate Manhattanwide play for one, was first produced in New York City in 1988, and has been recreated in Ljubljana, London, Munich, Zurich, Rotterdam; in 1990 it was published as a book. Templeton published the books of poetry London (1984), Hi Cowboy (1991), and oops the join (1997). She is also the author of Elements of Performance Art (1976) and Cells of Release (1997).
Templeton's 2002 Grants to Artists award funded The Medead, a play for twelve performers about the life-journey of Medea. Her urban theater work, L'Ile (The Island I), was commissioned by Lille Cultural Capital in 2004 and was also supported by her FCPA grant funds. Since receiving her 2002 FCPA grant, she has written the plays Delirium of Interpretations (2003) and Mum in Airdrie (2005).
Since her 2002 Grants to Artists award, Templeton has received grants from the Rockefeller MAP Fund (2004) and the Manhattan Community Arts Fund (2006, 2007). She has held residencies at the MacDowell Colony (2003, 2004), Mabou Mines (2004, 2005), and Lower Manhattan Cultural Council Swing Space (2006). Prior to her 2002 FCPA grant, Templeton was awarded grants from the National Endowment for the Arts in both Poetry and Visual Arts (1983, 1995), an Abendzeitung Muenchen Sterne des Jahres award for You—The City (1991), a New York Foundation for the Arts Fellowship in Playwriting (2000), and a Franklin Furnace Fund for Performance Art grant (2000).
Templeton was co-founder of the London company The Theatre of Mistakes in the 1970s and is Artistic Director of the theater company The Relationship. She was a Senior Judith Wilson Fellow in Theatre at Cambridge University and an Arts and Humanities Research Board Fellow in Creative and Performing Arts at Lancaster University. She is a Senior Lecturer at Brunel University London.