Foofwa d'Imobilité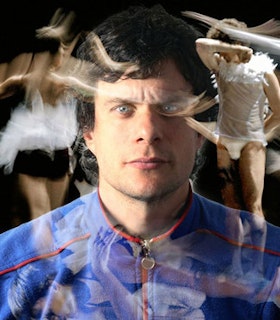 ... the money went directly to my company... I created Chore, a quartet for the stage, Musings, a solitary duet performed by me, Choreiagraphies, a new series of work with music, singing, and costuming, presenting very raw dance material, including twitches, convulsions, tics, involuntary movements, and chaotic movements... I started to conduct dance workshops and technique classes live via the internet (Telepedagogia)...
- Foofwa d'Imobilité, January 2010
Artist Statement
My work in choreography has had me dancerunning through the streets of Cairo, counting votes of the audience as they chose the outcome of a dance, and using my face to animate a Francis Bacon painting.
I am interested in finding the appropriate form in order to express a particular concept, and as a result, my pieces are very different in look and structure. I try to find an unexplored angle, and through reading, research, and observation, express a unique point of view. I use various corporeal and theatrical modes, and therefore my work has been referred to as pure dance, theatrical dance, experimental theater, performance art, mime, and even stand-up comedy. It is my attempt to freely combine those disparate elements in indoor and outdoor settings, and in solos and group pieces, to create a dance-going experience that escapes strict categorization.
I tend to be drawn to the following four topics: the onstage verbal and corporeal discourse on dance analysis and dance history, the embodiment of digital movements that exist in our media-driven society, the relationship between art and the public and, in the dancerun series, the analysis of similarities and differences between the worlds of dance and sport.
- December 2008
Biography
Foofwa d'Imobilité is a dancer and choreographer who has been creating his own works since 1998. He trained at Geneva Dance Centre and worked with Ballet Junior until he began dancing professionally, first with the Stuttgart Ballet (1987-1990), and later with the Merce Cunningham Dance Company (1991-1998).
Prior to receiving his Grants to Artists award in 2009, d'Imobilité founded the dance company Neopost Ahrrrt and created works including Media Vice Versa (2002), on media and digital images; Perform.dancerun.2 (2003), on the relations between dance and sport; and Injuria (2004), on the precariousness of dancers' conditions. He collaborated on three pieces with French choreographer Thomas Lebrun: Le Show (2001), Un-Twomen-Show (2004), and MIMESIX (2005), all of which toured throughout Europe. He also created Benjamin de Bouillis (2005), a solo about out-of-body experiences; Live & Dance, (2005) a piece for eight dancers or non-dancers; Incidences (2006), a multimedia and indeterminate piece about rituals and primitivity; BodyToys (2007), a trio about the manipulated bodies of the entertainment business; and The Making of Spectacles (2008), a quartet asking the audience to construct the dance by voting in a public, democratic process.
d'Imobilité's 2009 FCA grant supported the creation of Chore (2009), Musings (2009), Involuntaries 1-7 (2009), and the ongoing projects Choreiagraphies, Telepedagogia, and Merce-Art Forever. His subsequent works include Au Contraire (2010), Histoires Condansées (2011), LaréduQ (2011), Fenix (2012), THiRtEEn (2012), Ho-oH (2013), CATA'STROPHES (2013), L'engage (2014), Utérus, pièce d'intérieur (2014), Soi-même comme un autre (2014), and Dancewalk (2015). He has made numerous dance videos and has collaborated with artists including Alan Sondheim, Nicolas Rieben, Christian Marclay, and Antoine Lengo. He has had large group pieces commissioned by Nederlands Dans Theater II, Bern Ballet, and Ballet Junior. As a dancer d'Imobilité has performed internationally at venues including the Paris Opera, the Fenice Theater in Italy, and Brooklyn Academy of Music. His own work has been presented by The Kitchen, Chez Bushwick, and Baryshnikov Arts Center; the Maison de la Danse and the Biennale de la Danse in Lyon, France; and over 40 cities in Europe.
Before receiving his 2009 Grants to Artists award, d'Imobilité was honored with a Prix Professionnel at the Prix de Lausanne in Switzerland (1987), a New York Dance and Performance "Bessie" Award for his work in the Merce Cunningham Dance Company (1995), a Grant from Foundation Leenaards (1998), a Swiss Prize of Dance and Choreography (2006), and a three-year grant from The Arts Council of Switzerland, the City of Geneva's Department of Cultural Affairs, and the State of Geneva's Department of Pubic Instruction (2007-2009).