Frederick Weston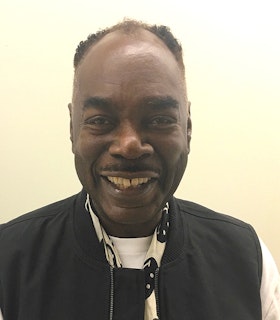 Artist Statement
I seek to make something beautiful of my wretched refuse. The challenge is to make diamonds out of dross. My intent is to shed light on my own humanity by exploring the possibilities and creative output of my discards. My collages and works on paper are composed of elements found in stationery and office supply stores, or "materials at hand," rather than conventional art materials. My favorite tools are the Polaroid camera, photocopy machines, and a good pair of shears; I've always been excited by new mediums of expression. Themes of style, fashion, and the commercial male image permeate my work.
The challenges of living with HIV don't overwhelm the work—or my life. It's just another coin in the pouch. Sometimes it comes out heads; it's a blessing. Sometimes it comes out tails; it's a curse. There are a lot of coins in my pouch. Ideas of blackness resonate most profoundly throughout my work. The one thing I have never been able to get around is being black and male in this world. It colors my every dream. My work portrays a range of social, racial, and historical themes and issues involving sexuality, gender, politics, religion, our relationship to "stuff."
- December 2019
Biography
Frederick Weston was a self-taught interdisciplinary artist working in collage, drawing, sculpture, photography, performance, and creative writing. From a young age, he collected and organized a vast encyclopedic archive of images and ephemera—related to fashion, the body, advertising, AIDS, and queer subjects—which he utilized in the creation of two- and three-dimensional works.
Weston's selection of visual materials, as well as his composition and juxtaposition of these materials, imbue his collages and assemblages with a distinctly personal perspective. His collages are a form of visual poetry, which explore individualism and the ways in which identity is shaped by community. Having studied menswear design and marketing at the Fashion Institute of Technology, Weston looks to fashion as a place of expression and liberation which is less encumbered by race, gender, and class. He is a historian of popular music, gay nightlife, and black fashion, and these themes animate his portraits.
Weston's first solo exhibition in New York, Frederick Weston: Happening, was presented at Gordon Robichaux, New York, in 2019. This exhibition of multimedia collage works included an installation of related archival binders created by Weston over thirty years, with handwritten headings on their spines. His work has been exhibited in numerous group exhibitions, including Souls Grown Diaspora, apexart, New York; Frederick Weston: Blue Bedroom Blues, Ace Hotel New York; HEAVEN AND HELL, Tom of Finland Foundation, Los Angeles; Tag: Proposals on Queer Play and the Ways Forward, Institute of Contemporary Arts at the University of Pennsylvania; Inside, Out Here at La MaMa Galleria, New York; Found at Leslie-Lohman Museum of Art, New York; Queer Artist Fellowship, Alternate Routes at Leslie-Lohman Project Space, New York; and at Person of Interest, Bureau of General Services, the Lesbian, Gay, Bisexual, and Transgender Community Center, New York. In 2016, an oral history with Weston, by Ted Kerr, was published by the Smithsonian Archives of American Art for Visual Arts and the AIDS Epidemic: An Oral History Project.
Weston received a B.S. from Ferris State University and an A.A.S. from the Fashion Institute of Technology. He is the recipient of numerous Materials Grants from VisualAids.