Frist Art Museum: Shahpour Pouyan exhibition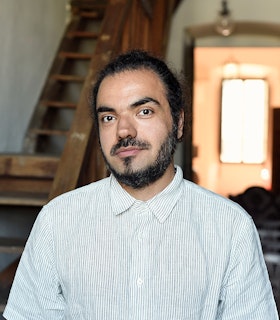 Artist Biography
Shahpour Pouyan (b. 1979) was born in Iran and currently lives in London. He uses historical events and conflicts as a metaphor to address the abusive relation of political power with religion, heritage, and the environment in today's world. Architecture is one of the main elements of his visual vocabulary in addition to archaeology, armor, medieval art, and Persian painting. Encompassing a wide variety of media, Pouyan's work transforms historical and political issues into poetic visual form.
The artist earned degrees in math and physics, philosophy, and painting in Tehran prior to receiving an MFA in New Forms and Integrated Practices from Pratt Institute, Brooklyn, NY (2012).
Pouyan has participated in many group exhibitions and biennials, including: Strange Clay: Ceramics in Contemporary Art, Hayward Gallery, Southbank Centre (London, UK, 2022–23); Rebel, Jester, Mystic, Poet: Contemporary Persians, Asia Society Museum (New York, NY, 2021–22); Clapping with Stones: Art and Acts of Resistance, the Rubin Museum of Art (New York, NY, 2019–20); The Moon: A Voyage Through Time, the Aga Khan Museum (Toronto, Canada, 2019); Silk Road and World Civilizations, 7th Beijing International Art Biennale (2017); Iranian Voices, British Museum (London, UK, 2017); and Whorled Explorations, Kochi-Muziris Biennale (Kochi Island, India, 2014). Skyhigh Is My Place at the Museum Dhondt-Dhaenens (Ghent, Belgium, 2021–22) was his first solo museum exhibition. Pouyan was shortlisted for the Jameel Prize 4 by the Victoria and Albert Museum, London (2016), and has received awards or fellowships from the Kenneth Armitage Foundation (2020), the Civitella Ranieri Foundation (2016), The Elizabeth Foundation for the Arts (2014), and the Cité internationale des arts (2007).
About the Exhibition
In the summer of 2024, the Frist Art Museum (FAM) in Nashville, Tennessee will present an in-depth exhibition of Iranian-born artist Shahpour Pouyan. The 2022 Ellsworth Kelly Award will support this first U.S. solo museum exhibition of the artist's work, organized by FAM Senior Curator Trinita Kennedy.
Conceived as a triptych, Pouyan's exhibition will be installed in three galleries, each housing a major work or series. The first gallery will be dedicated to Monday Recollections of the Muqarnas Dome, thirty-nine mixed-media drawings on paper created in 2015. The second will show We Owe This Considerable Land to the Horizon Line, a large group of ceramic sculptures in architectural forms made in 2017. The third will present the artist's first virtual reality installation, premiering at FAM: an immersive sensory experience evoking a fictional mosque based on several historically significant mosques in Iran. Instead of being full of light and beauty, it will be cold and gloomy, with snow falling from the ceiling, and the temperature in the room will drop to create a chilling effect.
Pouyan and FAM see this exhibition as an opportunity to create cross-cultural exchange. Iran and the United States have not had diplomatic relations since 1980, and in many American cities, including Nashville, there are few opportunities to learn about Iranian culture. "Pouyan's work is astonishing for its intense beauty, sophistication, and virtuosity," said curator Trinita Kennedy. "While his art is political, Pouyan never announces his agenda, leaving the door open for dialogue and understanding."
Since opening as the Frist Center for the Visual Arts in 2001, the Frist Art Museum has gained international recognition for its exhibitions and programs. A non-collecting institution, FAM's mission is to present and originate high-quality exhibitions with related educational programs and community engagement activities, and its vision is to inspire people through art to look at their world in new ways. FAM programming includes international and national exhibitions, as well as shows devoted to regional and local artists.