Gary Stevens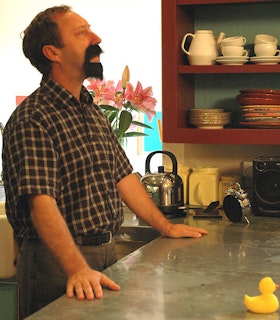 Artist Statement
The following is a statement by the artist about Thread, Stevens' FCA-supported play.
A man weaves an elaborate and clearly bogus account of his presence on the stage. He is on stage as a way of hiding. The narrative thread is tenuous. He rewrites himself to accommodate scene changes.
He constantly sabotages his efforts to fit in. He is both exposed and invisible at the same time. Finally he forces himself to tell a joke that he is ill-prepared for and faces the wrath of an audience that, having accepted the absurd premise of the joke, expects to be relieved of it by a punch line.
Thread was commissioned by Hollywood Leather in 1997 and has been performed in galleries and theaters. Selected venues include the Institute of Contemporary Arts in London, Visual Theatre Festival at Purcell Room, Southbank Centre in London, the Lyric Hammersmith in London, Brooke Alexander Gallery, Fierce! Festival at Birmingham Repertory Theatre, and Centre for Contemporary Arts in Glasgow.
Biography
Gary Stevens is an artist who creates performances and video installation. His solo and ensemble works have been presented internationally in gallery, theater, festival, and public spaces.
Since 1984, Steven's work has been the result of a long development involving elaborate texts and formal visual art contexts. His video installations include Slow Life and Wake Up and Hide, which were commissioned and first shown at Matt's Gallery in London in 2003 and 2007, respectively. His video installations Now and Again and Containment were both shown at Southampton City Art Gallery in 2012. He has toured internationally with live pieces such as Not Tony and Ape and developed an ensemble performance for L'Avant Siene in Paris for 2014.
Since receiving his 1996 FCPA grant, Stevens has won a Paul Hamlyn Award for Visual Arts in 1998 and a One to One bursary from the Live Art Development Agency in 2005. He has taught in many art schools as a visiting Visual Art and Performance tutor, including: Byam Shaw, Goldsmith's, Middlesex and Wimbledon. He has served as a tutor at the Slade School of Fine Art, since 2007. Between 1999 and 2009, Stevens managed the monthly performance lab at Artsadmin, a performance, site-specific, and interdisciplinary focused arts space in London.