Gedi Sibony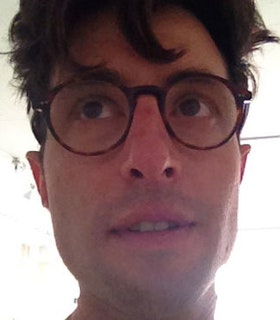 Frankly the world as I came into an understanding of it has already changed, and it will be my responsibility to follow the cause of the Foundation and pass the opportunity to younger artists whose visions may not be entirely clear to me but whose commitment and perseverance will demonstrate the necessity to support its pursuance... I sincerely thank you for the honor, and that money really did save my ass.
- Gedi Sibony, January 2010
Biography
Gedi Sibony is a visual artist. His sculptural works are made with found materials, including plywood, cardboard, garbage bags, and vinyl. He confronts what the formal expectation of a gallery exhibition and explores the possibilities of what constitutes artwork. The works in each exhibition space are arranged sparingly, allowing the materials and forms to inhabit the space.
Prior to receiving his 2009 FCA grant, Sibony's work was included in the Whitney Biennial (2006); If Surrounded by Foxes (2007), Kunsthalle St. Gallen, Switzerland which traveled to FRAC, Champagne-Ardenne, Reims, France (2008); and Unmonumental, New Museum (2007). Subsequent to his 2009 Grants to Artists award, Sibony's work has been the subject of solo institutional exhibitions including My Arms Are Tied Behind My Other Arms, Contemporary Art Museum, St. Louis (2009) and In the Still Epiphany (2012), a curatorial project at The Pulitzer Foundation for the Arts, St. Louis. His international solo exhibitions have been held at Culturgest, Lisbon (2011); Galerie Meyer Kainer, Vienna (2012); Galerie Neu, Berlin (2012); Gladstone Gallery, Brussels (2013); and Douglas Hyde Gallery, Trinity College, Dublin (2014).
Sibony's work was also featured in the group exhibitions The More Things Change, San Francisco Museum of Modern Art (2010-11); All of this and nothing, Hammer Museum at the University of California, Los Angeles (2012); The Language of Less (Then & Now), Museum of Contemporary Art Chicago (2012); and Memories: Some Favorite Objects, Cincinnati Art Museum (2013). His work is now in the collections of the Carnegie Museum of Art, Museum of Contemporary Art Chicago, The Museum of Modern Art, the Walker Art Center, and the Whitney Museum of American Art.
Since receiving his 2009 Grants to Artists award, Sibony was honored with a Tiffany Foundation Award (2009). Prior to his 2009 FCA grant, Sibony was part of the MoMA PS1 National Studio Program (2000-2001); he held a Creative Residency at the Atlantic Center for the Arts in Florida (2002); and he received a Rema Hort Mann Foundation Grant (2004) and a Metcalf Award from the Academy of Arts and Letters (2006).
Sibony graduated with a B.A. from Brown University in 1995. He studied at the Skowhegan School of Painting and Sculpture in 1999 and earned an M.F.A. from Columbia University in 2000.