Gelsey Bell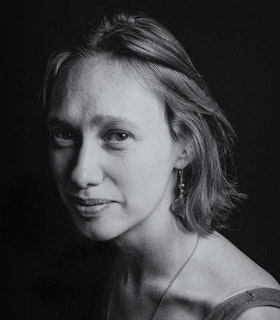 I have been using [the award] slowly, savoring it and feeling so much easier moving forward with projects knowing I have a financial cushion... I used [some of the grant] for a research trip for a piece I am making with Yasuko Yokoshi. The piece is called shuffleyamamba and will premiere in Japan this fall. We will then bring it to New York in the fall of 2020. I don't plan on using any more of my award for that project but having the ability to do that early research ensured that the project would go forward and it might not have without it.
- Gelsey Bell, December 28, 2018
Artist Statement
I primarily focus on voice as a nexus of social interaction and personal reflection. I have made a nest for myself using song form, but the building blocks cull from a wide array of fields outside music as well: theater, dance, philosophy, sociology, etc. Staging, dramaturgy, movement, and bodily sensation are often essential aspects of my sonic composition. I also cultivate a wide spectrum of vocal techniques across genres and am currently occupied with developing music that uses fluctuations in vocal timbre/style as an integral element of a melody.
As both an artistic creator and a scholar, I strive to maintain a two-way channel between using scholarship's complex theories and historical awareness in my performance work (not necessarily in order to be "communicated") and articulating embodied and kinetic experience and intelligence in scholarly prose.
I am also very committed to improvisation and collaborative creation, as well as furthering the history and life of classic works and practices that rely on improvisation and performer reinvention. And finally, I am interested in performance practices that are not tied to an object-based economy, rethinking the way music and performance can function on a societal level.
- December 2016
Biography
Gelsey Bell is composer, vocalist, and scholar. After releasing two studio albums as a singer-songwriter, Under A Piano (2005) and In Place of Arms (2010), Bell brought her songwriting into the experimental world through song cycles and collaborative pieces. She performs regularly as a vocalist and multi-instrumentalist, culling from a wide range of techniques and styles to create her own performance works, to literally voice those of contemporary composers, and to explore improvisation.
Her song cycles include Bathroom Songs (2010), which has been performed in bathrooms across North America and Europe; SCALING (2011); and Our Defensive Measurements (2013), commissioned by Roulette and the Jerome Foundation. Her other pieces include "Weight" (2014), commissioned by Ne(x)tworks; Spent Horizon (2015); and WIFE (2015), commissioned by Avant Media. She is a core member of new music ensemble thingNY, with whom she has collaboratively composed and arranged music for almost ten years, including This Takes Place Close By, IN HOUSE, TIME: A Complete Explanation in Three Parts, and the many SPAM extravaganzas. Bell is a founding member of performance collective Varispeed, with whom she collaboratively arranged and performed in their critically acclaimed adaptation of Robert Ashley's Perfect Lives, and John Cage's Empty Words. She also has a band with Fast Forward and Chris Cochrane called The Chutneys.
Bell's collaborative works include Locker Room Duet (2013), created with fiddler Cleek Schrey; original songs for Kimberly Bartosik's You are my heat & glare (2013); Prisoner's Song (2015), created with visual artist Erik Ruin; Airs and Interruptions (2015), originally composed for performances of Merce Cunningham's choreography performed by CNDC-Angers alongside music by John King; and Buoy (2016), created with choreographer Biba Bell. She has worked as a vocalist and multi-instrumentalist with composers Robert Ashley, Dave Malloy, Jonathan Bepler, Kate Soper, John King, Joan La Barbara, Rich Burkhardt, Brendan Connelly, Miguel Frasconi, and Anthony Gatto; visual artist Matthew Barney; sculptor Chris Larsen; sound artist Gregory Whitehead; choreographer Yasuko Yokoshi; and Panoply Performance Lab.
Bell received her Ph.D. in Performance Studies from New York University, and was awarded the Monroe Lippman Memorial Prize for her dissertation. She has published articles in Tempo, TDR/The Drama Review, The Journal of Interdisciplinary Voice Studies, and Movement Research Performance Journal. She has received both a residency (2015-16) and a commission (2013) from Roulette and the Jerome Foundation, and is the Critical Acts Co-Editor for TDR and the Reviews Editor for The Journal of Interdisciplinary Voice Studies.