George Trakas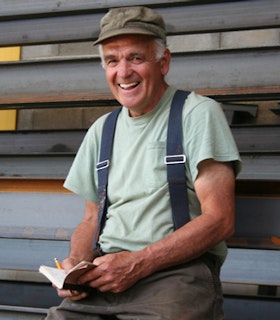 The [award gave me the] shock startled realization of finally being able to go back to building sculpture in [the] studio independent of contract or site. The freedom has inspired new work that is in process, elevating the body off the floor plane with steel steps, wood planks, and stone landings. Wall pieces are also in production with materials scavenged through the years from various building sites.
- George Trakas, December 15, 2017
Artist Statement
Build work recycling derelict urban spaces engaging spectator body movement through landscape toward discovery of self often a path of desire and form of choreography.
- December 2016
Biography
George Trakas is a sculptor who builds work through recycling derelict urban spaces, engaging the spectator's body through a discovery of self and a path of desire. Trakas's work is primarily situated outdoors, exploring relationships between nature, the built environment, and human presence.
Trakas' outdoor site-specific works include Self Passage (1989), a sculpture leading to a waterside platform at the Louisiana Museum of Modern Art, and Beacon Point (2007), a permanent dock installed on the Hudson River waterfront at Dia:Beacon. He has also conceived several walking trails, most notably Newtown Creek Nature Walk (2007), a nature walk along the Newtown Creek Wastewater Treatment Plant in Greenpoint, Brooklyn. His work Hook (Archean Reach), Line (Sea House), and Sinker (Mined Swell) (2004) is permanently installed at the Atlantic Avenue - Pacific Street subway station in Brooklyn.
Trakas was awarded an National Endowment for the Arts Grant (1979); a Guggenheim Fellowship (1982); a National Academy of Arts and Letters Medal for Sculpture (1996); and was named Doctor of Humane Letters by Emory University (2010). He was a professor of Sculpture at Yale University for thirteen years.