Germaine Acogny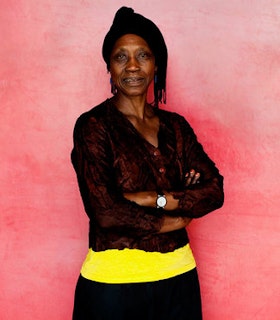 ... I can see myself again in Paris in a telephone box jumping out of joy and dancing in the street. The passerby were glaring at me but I did not care, I was tasting the good news which have allowed me today to start the creation of Waxtaan …The grant has allowed me to conduct more of the research for… Waxtaan …and to travel to Senegal, Mali, and Guinee Conakry, where I conducted interviews and auditions with dancers and scholars...
- Germaine Acogny, February and April 2006
Artist Statement
In Africa, we dance to express our feelings and the ideas of our feelings. I am working on these ideas/feelings and that gives to the dance all the understanding through the way of symbolic pictures.
The artistic movement into which I insert my own work, even though it is deeply rooted in popular traditions, is not at all a return to the roots. On the contrary, we pursue a way that is altogether different and resolutely urban, reflecting the modern context within which so many of us, Africans of our time, must live and move and have our being. The Africa of skyscrapers, the Africa of international alliances. We do not want to see black dance constrained. We want it to flourish freely as a living ferment of modern civilization, and in the modern civilization of this world, we want black dance to establish the position of respect it deserves. Hence it shall play its animating and creative part.
- 2005
Biography
Senegalese and French Choreographer Germaine Acogny has developed her own style and technique of contemporary African dance. She continues to choreograph, dance, produce, and teach around the world.
Since 1988, Acogny has frequently created solo pieces for herself, and since 2003 she has choreographed for her company, Jant-Bi, which tours globally. The company's dancers are all graduates of l'Ecole des Sables, an International Centre for Traditional and Contemporary African Dance that Acogny and her husband Helmut Vogt created in 2004. The center is a place of exchange between African dancers and dancers from all over the world. Here, dancers from all over Africa receive the rigorous training that guides them toward Contemporary African Dance.
Prior to her 2004 Grants to Artists award, Acogny created Sahel (1987), her first solo; Ye' OU (the awakening (1988); Africa, this memorable body (1989); Yewa, sublime water (1994), for her company; Z (1995), for the São Paulo City Ballet; Tchourai (2001), a solo; and Fagaala (2003), for Jant-Bi. Her 2004 FCA grant supported the production of Waxtaan (2006). Since this time, she has created Scales of Memory (2007) and Songook Yaakaar (2010).
Subsequent to her 2004 FCA grant, Acogny received a New York Dance and Performance "Bessie" for Choreography for Fagaala jointly with the choreographer Kota Yamazaki. Acogny was named Chevalier, Officier, and Commandeur of the Order of Arts and Letters by the French Government. She has additionally been appointed Chevalier of the Legion of Honour and Chevalier of the National Order of the Lion by the Republic of Senegal.
From 1977 to 1982, she was the Artistic Director of Mudra Afrique, created by Maurice Bejart and The President L.S. Senghor in Dakar. Acogny was appointed Artistic Director of The Dance section of Afrique en Creation in Paris, a position she held from 1997 to 2000.