Glenn Branca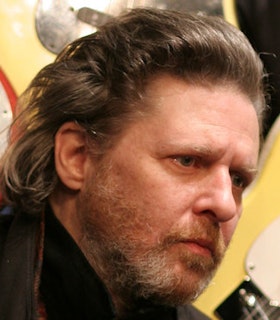 I used the very generous grant to write, record, and release my CD The Ascension: The Sequel.
- Glenn Branca, January 3, 2010
Artist Statement
My primary work is in writing symphonies for orchestra. So far my symphonies7, 9 and 11 have all been orchestral works. My new piece in progress isSymphony No. 14 (The Harmonic Series). The first movement,2,000,000,000 Light Years From Home,has been completed and I am now working on seven more movements:2. O Tempera, O Mores, 3.The Grand Sonic Field, 4. Lost Chords ('to strive, to seek, to find, and not to yield'), 5. The Universe (for Charles Ives), 6. The Museum of Modern Music Philharmonic, 7. Jesus H. Christmasand8. Twisting In Space. As yet only the first movement of this piece has been commissioned. I started working with the harmonic series in 1982 for mySymphony No. 3. For that piece it was necessary to design and build most of the instruments in order to accommodate a tuning system that involves 128 unequal intervals in the first seven octaves. Since that time I've developed a system of close approximations for orchestral instruments that makes it possible to use this intonation with conventional orchestra. I am also working onJazz Symphony (for Miles)and a symphony for unconventional instrumentation:Music for Strange Orchestra.
- December 2008
Biography
Glenn Branca was a composer whose work included music for experimental rock bands, large ensemble instrumentals for electric guitars, symphonies for both electric instrumentation and acoustic orchestras, chamber ensemble pieces for a wide variety of instrumentation (both electric and acoustic), an opera, a ballet, choral works, and music for film, dance, theater, and art installations. He invented The Harmonics Guitar and a theory of music based on the Harmonic Series and various tuning systems. He designed and built many of the instruments used in his pieces. He also founded The No Wave Movement that started in downtown New York City during the late 1970s that is now an international movement in the underground music scene. Branca collaborated with artists including Twyla Tharp, David Bowie, Peter Greenaway, Eiko and Koma, Eric Bogosian, Robert Longo, Laura Dean, and Dan Graham.
Before Branca received his 2009 Grants to Artists award, his works had been performed by orchestras and groups globally, including Alvin Ailey American Dance Theater (1983), The London Sinfonietta (1987), The Orchestra Of St. Lukes (1991), The Joffrey Ballet (1992, 1993), The Bang On A Can All-Stars (1997, 2000), Sonic Youth (2001), The Kronos String Quartet (2006), and The St. Louis Symphony Orchestra (2008), among others. His works have been performed around the world at venues including Brooklyn Academy of Music (1983), The Kitchen (2001), the World Trade Center (2001), MASS MoCA (2001), Montclair State University as part of Peak Performance Series (2006), Carnegie Hall (2006), the Barbican Centre (2006), Frieze Art Fair in London (2007), and the Seattle Art Museum (2008).
Branca's 2009 Grants to Artists award supported The Ascension: The Sequel (2010), a follow-up to his album The Ascension (1981), which was also re-released as a special edition in 2010. He premiered "Ascension Three," a composition for the Glenn Branca Ensemble, on a tour in Europe beginning fall 2014 in Hamburg, Germany. The American premiere was held in June 2015 at Winter Garden at the World Financial Center as part of the Bang on a Can Marathon. Since receiving his 2009 FCA grant, Branca's work has been commissioned by Crash Ensemble (2012).
Prior to his 2009 Grants to Artists award, Branca received awards for Music Composition from the National Endowment for the Arts (1988) and The New York Foundation for the Arts (1998). He was a DAAD Berlin Artist-in-Residence (1988).
Branca studied at York College of the City University of New York from 1966 to 1967; he studied at Emerson College between the periods of 1967 to 1968 and 1969 to 1971.