Grace Schwindt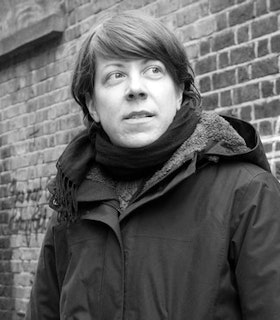 It is safe to say that the grant has been life changing for me. I want to stress how grateful I am that you trust the artists to know best how to use the financial support. This is crucial as every situation for each artist is so different...
- Grace Schwindt, December 2012
Artist Statement
I use theatrical sets for performance and video works with minimal architectural elements and props to mark a location—for example, a family home, or a cliff in Greece where a soldier is standing. I place bodies in these spaces, including my own, and use a tightly scripted choreography in which every move relates to institutionalized systems that rely on exclusion and destruction. Interviews that I conduct with individuals often serve as starting points for fictionalized dialogues that are then delivered by different performers.
While trying to represent a system, I deconstruct it by using the same mechanisms that I apply to build it: bodies, movements, speech, furniture, architecture, and costumes. For example, the film Tenant describes the routines that take place in a family home, such as eating together, doing homework, or bathing. These routines are embedded into a wider historical and social context and get repeatedly interrupted—such as a performer falling down stairs at the very moment she reaches the top. The body in my work is turned into a fragile prop in constant danger. I wish to empty institutionalized spaces of meaning. However, this doesn't lead to neutrality but becomes again loaded with gender, age, race, and class.
- December 2011
Biography
Grace Schwindt is an artist who works with film, live performance, and sculpture.
In 2010 Schwindt produced a new body of work called Counterpoint 1 and 2 at White Columns Gallery, New York. She presented the performance The Signal at South London Gallery, London, United Kingdom in 2011, and produced the FCA-supported feature-length film Tenant that was co-commissioned by Film London and Collective Gallery, Edinburgh, Scotland where it was presented as part of a solo exhibition. Tenant was also shown in solo presentations at WIELS Contemporary Art Centre, Brussels, Belgium; Whitechapel Gallery, London, United Kingdom; and Void Gallery, Derry, United Kingdom.
Her film Only A Free Individual Can Create A Free Society (2014) revisits discussions that the artist witnessed during her childhood, surrounded by radical leftwing individuals in Frankfurt. Schwindt developed the concept, wrote the script, choreographed the movement, and designed the sets and costumes. The work was shown in 2014 at Eastside Projects, Birmingham, United Kingdom; Badischer Kunstverein, Karlsruhe, Germany; and The Showroom, London, United Kingdom. In 2015 it was presented in a series of solo exhibitions for which Schwindt developed new sculptures, performances, and sound installations. The exhibition tour includes Site Gallery, Sheffield, United Kingdom; Contemporary Art Gallery, Vancouver, Canada; and Tramway, Glasgow, Scotland.
Schwindt has shown work in group exhibitions in the United Kingdom at Tate Britain, London; Arnolfini, Bristol; Spill Festival of Performance, London; and Frieze Art Fair, London; and internationally at Nomas Foundation, Rome, Italy; Cinema Galleries, Brussels, Belgium; Musicexmachina Festival, Bilbao, Spain; and Shanhe Museum, Hangzhou, China.
Prior to her 2012 Grants to Artists, Schwindt received a London Photographic Award (2008), a J.B. Benson Prize (2008), a Film and Video Umbrella Free to Air Award (2009), and a Boise Travel Award (2010). After her FCA support, Schwindt received a Film London Artist's Moving Image Network, FLAMIN Productions Award (2013), a Research Award from Goldsmiths University of London (2014), and an award from the Artist's International Development Fund, Arts Council England and British Council, United Kingdom (2015). Schwindt has participated in residency programs at Hospitalfiend Arts, Abroath, Scotland; Centre for Contemporary Arts, Glasgow, Scotland; WIELS Contemporary Art Centre, Brussels, Belgium; the Gershwin Foundation, New York; and the University of Ljubljana, Famul Stuart School of the Arts, Slovenia.
Schwindt received an M.A. from the Slade School of Fine Art (2008), and participated in the Associate Artist Programme at LUX Artists Moving Images (2009).