György Kurtág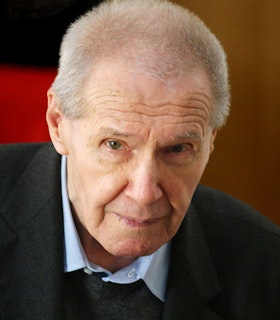 Artist Statement
György Kurtág is today the best known worldwide and most frequently played living Hungarian composer. His music simultaneously captivates the listener with its enigmatic density and its powerful expressiveness. In his style a synthesis is created of the achievements of the international avant-garde of the last several decades and the legacy of Hungary and Europe's musical past. His works confront the listener with the profoundest and most personal questions relating to the human soul and the fate of mankind. In his music the Hungarian culture of the end of the twentieth century is represented with the same general human validity as that of the first half of the century in the œuvre of Béla Bartók.
- Editio Musica Budapest, 2014
Biography
György Kurtág is a Hungarian composer. Following the Hungarian uprising in 1956, Kurtág lived in Paris before returning to Budapest in 1959. The string quartet he composed after his return to Budapest marks this turning point; he refers to this piece as his Opus 1.
Kurtág's works include 12 Microludes (1977-78), Messages of the Late Miss R. V. Troussova for soprano and chamber ensemble (1981), Kafka Fragments (1985-86), Ligatura Message to Frances-Marie (1989), Stele (1994), and Jatekok (1973-2010). His work consisted mainly of vocal solo, choral, instrumental solo, and ensemble pieces up to his Opus 33 (1994), when he began creating larger scale compositions. His FCPA-supported compositions, …concertante… (2003) and Hipartita (2004) represent his early large-scale works.
Subsequent to his 2000 Grants to Artists award, Kurtág was named a Foreign Honorary Member of the American Academy of Arts and Letters in 2001 and he was honoured with the Royal Philharmonic Society Gold Medal in London 2013. Prior to his 2000 FCPA grant, Kurtág was a DAAD Berlin Artist-in-Residence (1972), and a Composer-in-Residence at the Berlin Philharmonic Orchestra (1993-1995) and the Vienna Konzerthausgesellschaft (1995). In 1985 Kurtág was named Officier of the Order of Arts and Letters by the French Government. He is the recipient of the Kossuth Prize for Lifetime Achievement (1996), the Ernst von Siemens Music Prize (1998), the Austrian "Österreichisches Ehrenzeichen" (1998), and the Order of Merit in Sciences and Arts, Berlin.
In 1946, Kurtág began his studies at the Franz Liszt Academy of Music in Budapest. His piano teacher there was Pál Kadosa; he studied composition with Sándor Veress and Ferenc Farkas. He studied in Paris with Olivier Messiaen and Darius Milhaud, and worked with the psychologist Marianne Stein. Between 1960 and 1968, he worked as répétiteur at the National Philharmonia in Budapest. In 1967, he was appointed professor of piano and later also of chamber music at the Ferenc Liszt Academy of Mu­sic, where he taught until 1993. In 1987 Kurtág became a member of the Bavarian Academy of Fine Arts, Munich and the Akademie der Künste, Berlin.