Harryette Mullen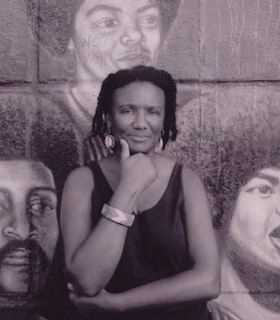 The award... allowed me to extend my sabbatical another year, as I continued to work on my proposed creative family history as well as other projects.
- Harryette Mullen, May 2006
Artist Statement
I was born in Florence, Alabama, birthplace of W.C. Handy, self-proclaimed father of the blues. I grew up in Fort Worth, Texas, home of jazz innovator Ornette Coleman. At present, I live in Los Angeles, California, where we can't see the stars in the sky—only the stars on the sidewalks of Hollywood. In my practice as a poet I try to combine critical thinking with the pleasures of rhythm and wordplay. We poets are finding new readers and I feel especially fortunate that my work is available to this expanding audience. In 2002 my book, Sleeping with the Dictionary was nominated for a National Book Award, National Book Critics Circle Award, and Los Angeles Times Book Prize. My current work-in-progress is a creative family history based on memory, oral storytelling, research, and documentation.
- 2005
Biography
Harryette Mullen is a poet and literary scholar. Her work involves techniques of sound association, innuendo, and signifying. The inspiration for her writing is often derived from everyday occurrences and dreams.
Mullen is the author of the poetry collections Trimmings (1991), S*PeRM**K*T (1992), Muse & Drudge (1995), Blues Baby: Early Poems (2002), and Sleeping with the Dictionary (2002). With funds from her 2004 Grants to Artists award, Mullen conducted research on a creative family history project. This resulted in the poems "My Ancestors Raised Cane is Sugar Land, Texas," published in The Texas Observer (2007), and "My Great-great-grandfathers in the Civil War;" the public talks "Where the Bodies Are Buried" and "Slave vs. Master in the Civil War: Fleming Mullen in the Massacre at Fort Pillow; Granville Spangler in the Battle of Brice's Crossroads;" the articles "Freedom for All: Sgt. William Wallace Strange, USCT Veteran and Father of Three Oberlin Alumni" and "Most of Us Were Colored: Reuben R. Strange and the Ohio Crew of USS Petrel, 1863;" and the visual art exhibition Family History Collages at the University of California, Los Angeles (2009).
Since receiving her 2004 FCA grant, Mullen has released The Cracks Between What We Are and What We Are Supposed to Be (2012), a collection of essays and interviews, and Urban Tumbleweed: Notes from a Tanka Diary (2013). Her poems have been translated into Bulgarian, Danish, French, German, Italian, Kyrgyz, Polish, Portuguese, Spanish, Swedish, and Turkish.
Subsequent to Mullen's 2004 Grants to Artists award, Mullen was awarded a PEN Beyond Margins Award for her poetry collection Recyclopedia (2006). She is also the recipient of a John Simon Guggenheim Memorial Foundation Fellowship (2005), a United States Artist Fellowship (2008), and a Jackson Poetry Prize (2010). Before her 2004 FCA grant, Mullen's Sleeping with the Dictionary (2002) was a finalist for the National Book Award, the National Book Critics Circle Award, and the Los Angeles Times Book Prize.
Mullen graduated with a B.A. in English from the University of Texas at Austin in 1975 and earned a Ph.D. from the University of California, Santa Cruz in 1990. She is on the faculty of the University of California, Los Angeles where teaches American poetry, African-American literature, and creative writing. Previously, Mullen was a faculty fellow of the Cornell University Society for the Humanities and a Rockefeller fellow at the Susan B. Anthony Institute at University of Rochester.