Haruna Lee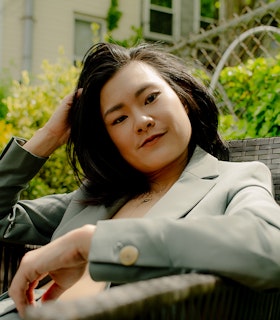 This year has been a surprisingly creative and fruitful year for me despite the ongoing crisis of this pandemic, and much of the stability and spaciousness I felt as an artist is thanks to the FCA Grants to Artists Award I received.
- Haruna Lee, December 11, 2021
Artist Statement
Through my plays, I have been developing a poetics that gives voice to and examines themes and ideas I've been drawn to all my life; these themes are a collision of images that extend towards personal and collective liberation—of truths and riddles that perplex and bring into light the fragmented experiences of Asian American/Immigrant/Queer & Non Binary identities; life and death as literal and metaphorical events; the pluralities of desire; and the intersection of psychic ruptures with our daily rituals, practice, and healing. For me, to write a play or text is to create radical performance landscapes that are inherently a visual collage, always offering a space for our multiplicities to pan out while formulating my own sense of play-logic. I strive to create theater that honors the complex, the multiple, the layered intersectionality of our being while tapping into non-linear form and liminal space to meditate on the more spectacular, terrifying, and disruptive bodies of thought and energy that exist in our deeper spirit and subconscious.
I am committed to organizing arts activism that engages my theater community with 'ethical collaborations,' promoting the responsibility of individual artists, institutions, and companies working together to create a more equitable, inclusive, and transparent practice that begins by holding one another accountable.
You can find harunalee's statement on equity and ethical collaborations here.
- December 2020
Biography
Haruna Lee is a Taiwanese-Japanese-American theater maker, educator, and community steward whose work is rooted in a liberation-based healing practice. Their plays are often portals into personal and collective stories navigating transcultural experiences and memories and the conflicts that arise when dealing with the simultaneity, contradictions, and pluralities of self.
Lee's work Suicide Forest (premiered at The Bushwick Starr, 2019) is a bilingual nightmare play excavating the Japanese-American consciousness and its looming relationship with sex, suicide, and identity. plural (love) (2019), a collaboration between Lee, Jen Goma, and Morgan Green, is an auto-theoretical performance installation that flirts with the boundaries of desire, power, and responsibility, building an environment that feels akin to stepping into a soft BDSM roleplay. Memory Retrograde (2017) is an exploration of one couple's past-life regressions through vast expanses of generations and landscapes revealing how memory and trauma are racialized, gendered, and fallible over time. Lee received a Foundation for Contemporary Arts Emergency Grant for Memory Retrograde.
Lee is a recipient of an Obie Award in Playwriting for the Conception and Writing of Suicide Forest (2019), for which they received grants from The MAP Fund (2018), the National Endowment for the Arts (2019), and the New York State Council of the Arts (2019). Lee has been recognized with the Mohr Visiting Artist Fellowship at Stanford University (2020-2021), a MacDowell Fellowship (2020), the Lotos Foundation Prize for Theater Directing (2017), and a New Dramatists Van Lier Playwriting Fellowship (2010). They are part of the 2019 artEquity National Facilitator Training cohort and the 2020-2022 WP Theater Lab, and are the co-founder and lead facilitator of the Women-Trans-Femme-Non Binary (WTFNB) Asian Diasporic Performance Makers Potluck. Their writing has been published by 53rd State Press, including Suicide Forest and in Occasional No. 2 (2018), and by Table Work Press, in the anthology Plays For Our Younger Selves (2020). As a performer, Lee has worked with Aya Ogawa, Mac Wellman, David Lang, Rachel Chavkin, Cesar Alvarez, Kate Benson & Lee Sunday Evans, Andrea Geyer, Taylor Mac, Yoshiko Chuma, Ralph Lee, and Anohni, among many others.
Lee has taught playwriting and performance at Stanford University, New York University's Experimental Theatre Wing, Playwrights Horizons Theater School, Pace University, and York College.
They hold an M.F.A. from Brooklyn College for Playwriting and a B.F.A. from New York University's Tisch School of the Arts Experimental Theater Wing.