Holland Andrews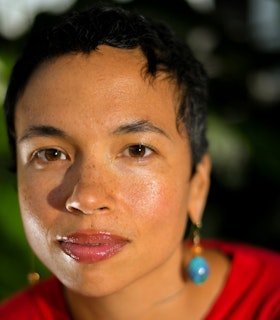 Artist Statement
Emotionality, spirit, and transformations are the foundation of my composition and performance style; the kind that triggers a cathartic experience—this is where I dwell as an artist. Something that is paramount to me holistically, as an individual, is being a vessel of healing, limitless compassion, and transmutation of suffering into bliss within my own body. Through playing with sonic dissonance and resonance with voice and clarinet, I attempt to live this intent. My fire under my path forward is the endless pursuit of mastering the transmission of that healing to others as authentically and effectively as possible in all of my work.
- December 2022
Biography
Holland Andrews is an extended technique vocalist, composer, performer, and improviser who is driven by their passion for dismantling and transforming internal oppressive systems into cathartic freedom. Their ever-evolving process celebrates failure and stems from a self-guided rigor that is expressed through sounding, singing, composing, and speaking. Andrews arranges music for voice, clarinet, and electronics, harnessing the power of these instruments to address themes of vulnerability and healing. Primarily a self-taught vocalist, Andrews has roots in the experimental DIY music scene. Their influences span contemporary opera, theater, and jazz, which they integrate with language disintegration and vocal distortion to create their own unique style.
In 2021, Andrews signed with the Berlin-based record label LEITER Verlag, founded by Felix Grimm and Nils Frahm. The label has released a series of EPs by Andrews, including Doubtless (2022) and Wordless/Forgetting (2021), which draw upon electronic and organic sources, including clarinet, Andrews's vocals, and field recordings, to build layered and dissonant soundscapes. Andrews previously performed solo music under the stage name Like a Villain.  
Andrews has toured nationally and internationally and performed at Baryshnikov Arts Center, New York, NY (2021); Portland Institute for Contemporary Art's Time-Based Art Festival, Portland, OR (2021); and ISSUE Project Room, Brooklyn, NY (2020), among others.
In addition to creating solo work, they have collaborated with Son Lux (as a featured artist on the track "Sever"), William Brittelle, Christina Vantzou, Ryan Lott, West Dylan Thordson, Peter Broderick, and Nils Frahm. Andrews's collaborative work with dance and theater artists includes Is It Thursday Yet? by Jenn Freeman and Sonya Tayeh (2023); Outwalkers by Moya Michael (2022); Afterwardsness by Bill T. Jones (2020); and Unwanted by Dorothée Munyaneza (2019).
Andrews has received a Pioneer Works Music Residency (2021) and an Art Matters Fellowship (2020), and was an ISSUE Project Room Artist-in-Residence (2020).