Ian Cheng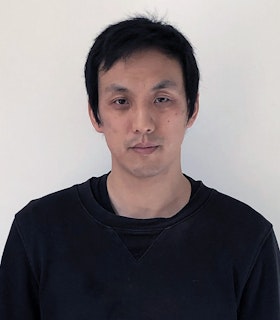 On reflection, this past year has been a process of reorienting myself away from borderless artistic production at all hours of the day racing to meet show deadlines, and toward developing a strong foundation for my family and work to be resilient to change, and even unbothered by change. The FCA grant made all the difference in making this turn.
- Ian Cheng, December 25, 2021
Artist Statement
Since 2012, I have produced a series of simulations exploring an agent's capacity to deal with an ever-changing environment. These works culminated in the Emissaries trilogy, which introduced a narrative agent whose motivation to enact a story was set into conflict with the open-ended chaos of the simulation. Most recently, I have developed BOB (Bag of Beliefs), an AI creature whose personality, body, and life story evolve across exhibitions, what I call "art with a nervous system." In 2015, I founded Metis Suns, a production company dedicated to worlding and worlding literacy.
- December 2020
Biography
Ian Cheng is an artist with a background in cognitive science. In his work, Cheng explores the potential of artificial intelligence (AI) through game design and simulation.
Cheng's Emissaries (2017), a series of video games that play themselves, were the subject of his first solo U.S. museum exhibition at MoMA PS1, Long Island City, NY. Each of these computer simulations featured a complex, ever-changing ecosystem set against a determined agent, the emissary, attempting to fulfill its script. At the Serpentine Gallery in London, United Kingdom, Cheng first exhibited BOB (Bag of Beliefs) (2018), an artificial lifeform composed of sub-personalities competing for control of BOB's body. Inspired by a Jungian model of the mind, BOB detects mismatches between the desired expectations of its action and the unfolding environmental reality, forcing it to update its beliefs to make better inferences in the future.
Cheng has also had solo exhibitions at Carnegie Museum of Art, Pittsburgh, PA; Fondazione Sandretto Re Rebaudengo, Turin, Italy; and Julia Stoschek Collection, Berlin, Germany. His work has appeared in group exhibitions at the 58th Venice Biennale, Italy; Moderna Museet, Stockholm, Sweden; The Museum of Modern Art, New York, NY; Whitney Museum of American Art, New York, NY; the Hirshhorn, Washington D.C.; Tate Modern, London, United Kingdom; Louisiana Museum of Modern Art, Humlebæk, Denmark; Fondation Louis Vuitton, Paris, France; and SculptureCenter, Long Island City, NY.
Cheng holds an M.F.A. from Columbia University and a B.A. from University of California, Berkeley with a dual degree in Cognitive Science and Art Practice.