Institute for Contemporary Art at Virginia Commonwealth University: dana washington-queen exhibition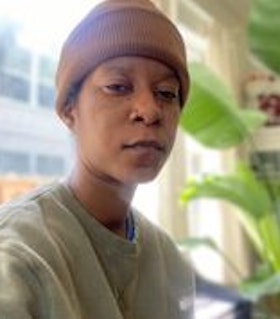 About the Exhibition
In September 2022, the Institute for Contemporary Art (ICA) at Virginia Commonwealth University (VCU) will present an exhibition of work by filmmaker, photographer, and writer dana washington-queen. The 2020 Ellsworth Kelly Award will support the first museum exhibition of washington-queen's work. This will include a two-year collaboration to develop a new multi-media work, UNTITLED (Continuum of Spirit), which the artist will realize in partnership with ICA Assistant Curator of Film and Special Programs Enjoli Moon, and members of the ICA and VCU community.
"UNTITLED (Continuum of Spirit), will present new ways of thinking about the politics of the performing Black body, sporting events and broadcast technologies to examine relationships between labor-spectacle and entertainment-audience," noted washington-queen. In this work they will remove the spectacle of the Black body in sports through a process of technology-driven abstraction and reconstruction; the work will collapse genre boundaries across video, sound, photography, and text.

The Institute for Contemporary Art at Virginia Commonwealth University is a non-collecting institution that showcases a fresh slate of changing exhibitions and programs. The ICA is a place to explore new ideas, providing an open forum for dialogue and collaboration across the region and the world. Mirroring the increasing emphasis on cross-disciplinary studies across VCU, the ICA has created a new environment for artists and scholars from around the world to test ideas. The ICA is a responsive institution that offers a broad range of artistic perspectives from across the world, with the goal of questioning assumptions and encouraging critical discourse.
Artist Biography
dana washington-queen (b. 1985) is a writer and lens-based artist exploring narrative within autobiographic and cultural fields to examine representation, place and sociopolitical structures. Their work negotiates between subjecthood, subjectivity, blackness, and liberation to reflect upon the incoherencies of lived experiences and artistic practice.
washington-queen is building a language for their work through Black Noetic theory (BNt) to consider how blackness, interiority, and performance are embedded in modes of production for which to imagine blackness otherwise in audiovisual space, attending to the relationships between the body and image. washington-queen is interested in pushing against the boundaries of production strategies and genre, collapsing distinctions between documentary and constructed documents.
washington-queen received a BFA from California State University, Long Beach and MFA from University of California, San Diego. Their videos and photographs have been exhibited at Art+Practice, Los Angeles; San Diego Art Institute; and 98 Orchard, New York; while their short films have received selections from DTLA Film Festival, Toronto Short Film Festival, Outfest Fusion LGBT People of Color Film Festival, Black Radical Imagination Film Tour, Afrikana Film Festival, and BlackStar Film Festival.