Institute for Contemporary Art at Virginia Commonwealth University: dana washington-queen exhibition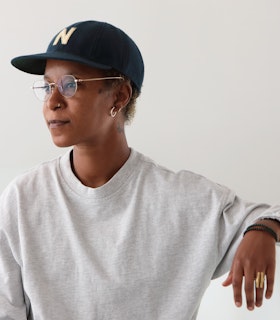 Artist Biography
dana washington-queen (b. 1985, Long Beach, CA) is a poet, photographer, filmmaker and video artist using narrative storytelling to explore blackness, gender, and systems of power. Their research and practice bring documentary and experimental modes of production into dialogue as a study on ways of being and cultural knowledge production.
Critical to washington-queen's practice is Black Noetic theory as a methodology, which considers intuitive knowing and doing as an experimental strategy. Black Noetic theory as a concept and practice considers the features of Black life and Black queer lives on the margins, and attempts to organize the linkages between experiential knowledge and experimental modes of production.
washington-queen received a BA from California State University, Long Beach and an MFA from University of California, San Diego. Their work has been exhibited at Jeffrey Deitch, Los Angeles; Art+Practice, Los Angeles; Springsteen Gallery, Baltimore; 98 Orchard, New York; and San Diego Art Institute. Their films and videos have received festival selections from BlackStar Film Festival, Outfest Fusion LGBT People of Color Film Festival, DTLA Film Festival, Toronto Short Film Festival, and Los Angeles Diversity Film Festival.
About the Exhibition
With support from the 2020 Ellsworth Kelly Award, in the fall of 2022, the Institute for Contemporary Art (ICA) at Virginia Commonwealth University (VCU) presented Resume At The Point of Interruption, the first museum exhibition of work by filmmaker, photographer, and writer dana washington-queen.
The title of the exhibition comes from the NBA rulebook, stating that if a game is unexpectedly suspended, it must resume exactly at its point of interruption. Articulated through a series of murals, found images, video, and text, washington-queen mines both social and personal histories of basketball, engaging with and interrupting the ways different gazes interpret how the Black body performs, labors, and generates creativity and expressions of freedom. Curated by Enjoli Moon, Assistant Curator of Film and Public Programs at the ICA, all but one of the works in the exhibition have been commissioned by the ICA.
The Institute for Contemporary Art at Virginia Commonwealth University is a non-collecting institution that showcases a fresh slate of changing exhibitions and programs. The ICA is a place to explore new ideas, providing an open forum for dialogue and collaboration across the region and the world. Mirroring the increasing emphasis on cross-disciplinary studies across VCU, the ICA has created a new environment for artists and scholars from around the world to test ideas. The ICA is a responsive institution that offers abroad range of artistic perspectives from across the world, with the goal of questioning assumptions and encouraging critical discourse. For more information on the ICA, please visit icavcu.org.