Indran Amirthanayagam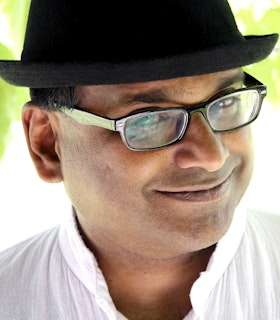 In this year of the pandemic we have seen so much loss of life, so many economic livelihoods devastated, and so many profound shifts in the way we engage each other. Yet, there have been positive, almost tender developments as well. The support [FCA] gave me helped me develop various initiatives that I hope will continue to bring human beings closer together through poetry. 
In 2020 I published three new books written in three different languages: The Migrant States (Hanging Loose Press, New York) in English, Sur l'ile nostalgique (L'Harmattan, Paris) in French, and Lirica a tiempo (Editorial Mesa Redonda, Lima) in Spanish. I started The Poetry Channel on YouTube, https://youtube.com/user/indranam. Here I publish recordings of essential contemporary poems without any language restriction. I am also editing The Beltway Poetry Quarterly.
- Indran Amirthanayagam, December 17, 2020
Artist Statement
Migrants are on the move, while our Earth is staggering, roiling and rolling, drunk on human breath. We are living in the middle of the Emergency and some of us will not be able to escape. The seas rise and boil. Brush fires move at a lightning clip. Heavy, sooty swats of Delhi air penetrate masks and decorum, silting lungs with a slow accumulation of poisons—as if our lungs, the breathing tubes, the bellows of our lives, have become a burial pit, the sand thrown in. So, what does the Migrant state?
We need open borders everywhere, borders of the mind, of languages. We need to cross over at ports of entry with our dances, tongues, poems and gods. So, pack your bag for the trip. I invite you to put my poems in an outer pouch, easy to grab and show at Customs.
In my words, Sir, there are no vegetable products, no animal residues, no contraband. They are here to wake up essences, dreams, memories; to tell stories of where people come from, and the disputes, struggles, successes they encounter along the way.
- December 2019
Biography
Indran Amirthanayagam is a poet and diplomat who writes poetry in English, Spanish, French, Portuguese, and Haitian Creole. His work addresses universal themes of human suffering and resilience and uses language to dissolve barriers between different cultures, races, and people of varying socioeconomic status.
Amirthanayagam has published seventeen collections of works, including The Migrant States (Hanging Loose Press, 2020); Coconuts on Mars (Paperwall Media & Publishing Pvt.Ltd., 2019); En busca de posada (Editorial Apogeo, 2019); Paolo 9 (Manofalsa, 2019); Uncivil War (Tsar/Mawenzi House, 2013), which tells the history of the Sri Lankan Civil War; The Splintered Face: Tsunami Poems (Hanging Loose Press, 2008), which appeared in the wake of the Asian Tsunami of 2004; and The Elephants of Reckoning (Hanging Loose Press, 1993), which won the 1994 Paterson Prize. His other books include Il n'est de solitude que l'île lointaine (Legs Editions, 2017) and Ventana Azul (El Tapiz del Unicornio, 2016). Amirthanayagam also works in music and has released the album Rankont Dout (2018).
He is a past recipient of fellowships from the MacDowell Colony (1992), the New York Foundation for the Arts (1993), and The U.S.-Mexico Fund for Culture (2000).
Amirthanayagam directs Poetry at the Port, a monthly spoken word series at Port Au Prince restaurant in Silver Spring, Maryland. He also writes a weekly column featuring poems for the newspaper Haiti En Marche. Amirthanayagam holds a B.A. from Haverford College and an M.S. in Journalism from Columbia University.