Iréne Hultman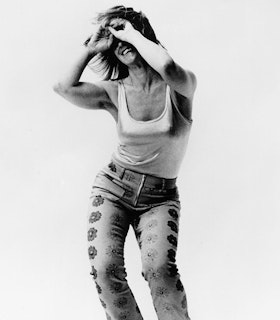 The award was used in direct support of Cascade, which premiered at The Joyce Theater on January 3, 1996 as well as on the early development, planning and research for my newest production, Nordic Project… Having this prestigious award behind me helped me concentrate on finding and developing my initial thoughts, and it enabled to experiment with movement that in the early stages is very fragile if not taken care of…
- Iréne Hultman, April 25, 1997
Biography
Iréne Hultman is a choreographer. From 1983 to 1988 she was a member of the Trisha Brown Company. In 1988 she created Iréne Hultman Dance Company, and received national and international recognition for work spanning fifteen years. Since then she has worked by commission, choreographing several opera productions and choreographic commissions. Hultman is the co-founder of Järna-Brooklyn, a Swedish-American cultural entity that encourages artistic experimentation, and is a founding member of the multi-media collective "Fire Work" in Stockholm.
Her work has premiered at The Joyce Theater and Danspace Project. Hultman has choreographed seven Opera Productions including Mozart's Don Giovanni for Norrlands Operan and The Magic Flute for Drottningholms Slottsteater, both in Sweden. Her commissions include Firebird for Gothenburg Opera Ballet and I Find Comfort for The Folkwang Tanzstudio under the direction of Pina Bausch in Germany. She has also choreographed musicals and cabarets including South Pacific for Malmö Opera och Musikteater and A Touch of Kurt Weil for Kultur Huset in Stockholm. She is the co-Founder of Järna-Brooklyn, a Swedish-American cultural entity that encourages artistic experimentation and exchange. Hultman is also a founding member of Fire Work, a multimedia collective based in Stockholm.
Previous to her 1995 FCPA support, Hultman was the recipient of a John Simon Guggenheim Memorial Foundation Fellowship in Choreography (1994). Hultman has served on Danspace Project's Artist Advisory Board and on the New York Dance and Performance "Bessie" Award Committee.
Hultman received a Professional Dance degree from Balettakademien at Stockholm University. She has taught at Yale University, Sarah Lawrence College, Wesleyan University, Ballet de Lorraine in Nancy, France, the New School, and State University of New York, Purchase. She teaches at the Trisha Brown Dance School, where she was also a rehearsal director from 2006 to 2009.