Ishmael Houston-Jones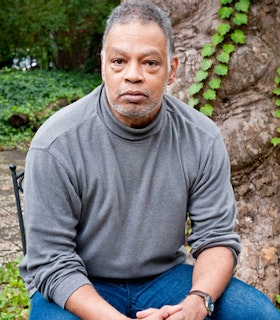 As Emily [Wexler] and I continued with working on 13 Love Songs: dot dot dot I was able to carry on without worrying too much about finances... I used the funds to buy costumes and props, for transportation to and from rehearsal, publicity, documentation, rehearsal, lighting, and sound design.
- Ishmael Houston-Jones, December 19, 2013
Artist Statement
I am a choreographer, author, performer, teacher, and arts consultant. My text and dance performance work is rooted in the exploration of improvisation. I use numerous improvisational strategies to open a free flow of immediate, spontaneous, and automatic writing, speaking, and dancing. I employ the resultant movement and spoken text to construct group pieces as well as solo works.
- December 2012
Biography
Ishmael Houston-Jones is a choreographer and performer. His improvised dance and text work has been performed in New York City, across the United States, in Europe, Canada, Australia, and Latin America. His selected works include Knife, Tape, Rope (1989), Unsafe/Unsuited (1995), The Undead (1999), Calamity Jane (2009), and FCA-supported 13 Love Songs: dot dot dot (2014). His works have been presented at venues such as Dance New Amsterdam, Los Angeles Contemporary Exhibitions, Walker Art Center, and Triplex at Manhattan Community College.
Subsequent to his 2013 FCA grant, Houston-Jones was honored with a Doris Duke Performing Artist Award (2015). Prior to his 2013 Grants to Artists award, Houston-Jones's received a New York Dance and Performance "Bessie" Award for Outstanding Production for its premiere at The Kitchen (1984), and received a fellowship from the New York Foundation for the Arts (1985), and in 2011 received a New York State Dance and Performance "Bessie" for Best Performance of the Year for THEM, a revival at Performance Space 122 of the 1986 work.
In addition to his choreographic and performance projects, Houston-Jones serves as Curator of Draftwork at Danspace Project, an afternoon series of works-in-progress. He was also the curator of PLATFORM 2012: Parallels at the Danspace Project. He is on the Board of Directors of Movement Research, is a Board Member Emeritus at Danspace Project, and is Chairman of the Board at Ashley Anderson Dances in Salt Lake City. Houston-Jones is an adjunct professor in the Experimental Theater Wing at New York University.