Jace Clayton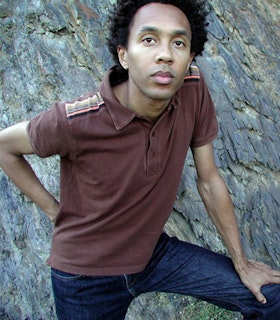 First, [the grant] allowed me to fully realize a number of large-scale projects, literally catalyzing and accelerating my output. I recorded a new album and released a free set of software-as-art musical tools. Second, I was able to devote time to research and reflection, including a trip to North Africa. Having the opportunity to dig deep into the areas of one's intellectual interests without worrying about money was wonderful. And lastly, FCA's show of support inspired me to begin developing more ambitious and larger-scale work...
- Jace Clayton, January 2013
Artist Statement
I'm an interdisciplinary artist whose practice has evolved out of my work as a DJ, built around core concerns for how sound, public space, and use of technology in low-income communities interact, with an emphasis on Latin America, Africa and the Arab world... In the fall of 2012 I will debut The Julius Eastman Memorial Dinner, a performance piece that restages three of Julius Eastman's compositions using pianos, cellos, and boomboxes, accompanied by a new libretto about the job search for an Eastman impersonator in New York City. I maintain a busy international touring schedule as DJ Rupture. These artistic activities find counterpart in my weekly WFMU (91.1 FM NYC) radio show Mudd Up; in grassroots curatorial projects such as spearheading 2011's art-research residency Beyond Digital, which took place in Casablanca and Tangiers, Morocco; in hosting a book club; and in a series of live radio shows that incorporate video, which are held at Brooklyn's Spectacle Theater. I am currently writing a nonfiction book on music at the dawn of the digital century to be published by Farrar, Straus and Giroux.
- December 2011
Biography
Musician and sound artist Jace Clayton uses an interdisciplinary approach to focus on how sound, memory, and public space interact, with an emphasis on low-income communities and the global South. His work moves across areas as diverse as software design, sculptural objects, or performance. His projects include FCA-supported Sufi Plug Ins (2012), a free suite of music software-as-art based on non-western conceptions of sound and alternative interfaces; and The Julius Eastman Memorial Dinner (2011), a performance piece for grand pianos, live electronics, and voice.
As DJ/rupture, Clayton has released several critically acclaimed albums and hosted a weekly radio show on WFMU. His records have been released on Sub Rosa, The Agriculture, Tigerbeat6, and Soot. He has performed at venues including Performa 11, Contemporary Art Center, Cincinnati; The Studio Museum in Harlem; and with the Barcelona Symphony Orchestra. Clayton's collaborators include filmmakers Jem Cohen, Joshua Oppenheimer, poet Elizabeth Alexander, and singer Norah Jones.
Following his FCA support, Clayton was a Creative Capital Performing Arts grantee (2013), and a University of Southern California Annenberg/Getty Arts Journalism fellow (2013). Prior to his 2012 Grants to Artists, Clayton received a Makers Muse Award from The Kindle Project (2010), and was an artist-in-residence at Eyebeam Art + Technology Center (2010), and at the Lower Manhattan Cultural Council (2009). Clayton teaches as a faculty member of the Milton Avery Graduate School of the Arts at Bard College. He has given artist talks at institutions such as MoMA PS1, Harvard University, California Institute of the Arts, and Cooper Union. He received a B.A. from Harvard University (1997).