Jaime Manrique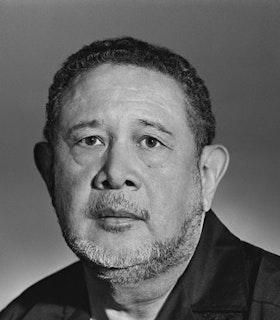 ... I can say that the grant made me realize that I had not been working in a vacuum, that somebody noticed. It made me feel validated.
- Jaime Manrique, January 17, 2001
Artist Statement
I was born in Colombia and lived there until I emigrated to the States in my adolescence. I am a bilingual, bicultural writer out of necessity and not out of choice. As a writer, I am trying to reflect the two cultures that have shaped me. What I want to do is explore the two countries, from the perspective of a gay Latino living in New York City. Though I write my novels and essays in English, I am resistant to say goodbye to the Spanish language when it comes to writing my poetry—it seems to me that this would be the ultimate betrayal. My hope, though, is that someday people will think of me as a graceful practitioner of the English language.
- 2000
Biography
Jaime Manrique is a bilingual author, poet, and scholar whose writing often explores personal and historical themes of Latin America and homosexuality. He generally composes his poems in Spanish and his novels in English. His work has been translated into fifteen languages. Among his publications are the novels Colombian Gold (1983), Latin Moon in Manhattan (1995), Twilight at the Equator (1997), the memoir Eminent Maricones: Arenas, Lorca, Puig, and Me (1999); and the volume of poetry My Night with Federico García Lorca (1995). Manrique's 1999 Grants to Artists award supported his volume of poems Tarzan, My Body, Christopher Columbus (2001). After receiving his FCPA grant, Manrique released Our Lives Are the Rivers (2006) and Cervantes Street (2012). He has contributed work to Salon.com and BOMB, among other publications.
After receiving his 1999 Grants to Artists award, Manrique went on to receive a John Simon Guggenheim Memorial Foundation Fellowship and a New york Foundation for the Arts Artists' Fellowship, both in 2000, and an International Latino Book Award for Best Novel in the category of Historical Fiction in 2007. Previous to his FCPA grant, Manrique received Colombia's National Poetry Award in 1975 for his first volume of poetry.
Manrique graduated from the University of South Florida with a B.A. in English Literature in 1972. He was in residence at Yaddo from 1991-1998 and he was an Associate Professor in the Columbia University M.F.A. Writing Program from 2002-2008. Manrique is a Distinguished Lecturer at The City College of New York and has also taught fiction and poetry workshops at New York University, Mount Holyoke College, Hampshire College, Goddard College, Eugene Lang College The New School for Liberal Arts, and the Poetry Project at St. Mark's Church.