James Fei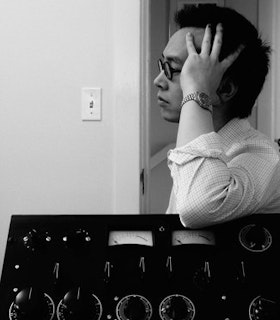 One of the most important aspects that the FCA award made possible is the ability to plan a series of releases on a timetable, rather than publishing whenever financial resources allows. I spent much of this year reviewing and working on the materials in my recorded archive—evaluating performances, mixing, editing, restoring, and mastering audio.
- James Fei, December 2014
Artist Statement
I work in several interconnected strands of music: traditional scores, improvisation, live electronics, sound installations, and those that fall between categories. The solo pieces for woodwinds that I perform embody the possibilities for the composer/performer: they are not entirely scored but are nonetheless fixed by physical processes. Similarly, works for my Alto Quartet focus on the artifacts of saliva, screams, reeds crippled with cuts, as well as playing at the threshold of audibility. I am interested in those elements usually considered undesirable in sound production. Pieces such as Faktura (2009) and Nominal Dust use solely the residual noise from instruments, mixers, amplifiers, and ambient tone. These dirty bits, like the dust in a room, are usually masked or hidden, but are brought to the surface in the absence of any conventional material.
Recent works have been engaged with the oblique relationships between sound and image. When Tobacco Smoke Smells Also of the Mouth Which Exhales It (2007), extracts the most peripheral sounds from films, reproduced with Foley (sound effects created by props) and electronics. Divorced from all visual and narrative elements, the incidental sounds are no longer functional, with odd timing, long pauses, and unidentifiable associations. In Sound Slowed Down a Thousand Times, a suspended loudspeaker reproduces the word "sound" at 1/1,000th the original speed. The complex fluctuations of the vocal acoustic waveform are stretched, becoming visible but silent.
- December 2013
Biography
James Fei is active as a composer, performer, and musician on saxophones and live electronics. Compositions for Fei's own ensembles of four alto saxophones focus on physical processes while his sound installations and performance focus on live electronics often focus on electronic and acoustic feedback.
In 2014, with support from his Grants to Artists award, Fei premiered Hysteresis at Roulette, performed The Nerve Meter (2004), and Sine of Merit III (2012) at Stanford University, and continued Sparrows and Ortolans, collaboration with Laetitia Sonami. Fei's works have been performed by the Bang on a Can All-Stars, The Orchestra of the S.E.M. Ensemble, MATA Micro Orchestra, Noord-Hollands Philharmonisch Orkest, and at venues including the San Francisco Museum of Modern Art, Merkin Concert Hall, The Kitchen, Knitting Factory, Tonic, Roulette, Experimental Intermedia, MATA Festival, Engine 27, The Stone, ISSUE Project Room, Empty Bottle in Chicago, JFC Club in St. Petersberg, Super Deluxe and Shinjuku Pit Inn in Tokyo, Osaka Arts–Aporia, Osaka, the National Recital Hall in Taiwan, Akedemie der Künste in Berlin, and Beurs van Berlage, Steim, and Overtoom 301 in Amsterdam. Recordings can be found on Leo Records, Improvised Music from Japan, CRI, Krabbesholm, and Organized Sound.
Fei has lectured at Columbia University, Wesleyan University, the Art Institute of Chicago, Taipei Normal University, Taipei National University of the Arts, San Francisco Conservatory of Music, Theremin Center in Moscow, Pro Arte in St. Petersberg, Krabbesholm in Denmark, IAMAS in Ogaki, Japan, and NUAS in Nogoya, Japan. He received his B.S.E. from Princeton University and an M.A. from Wesleyan University. Since 2006 Fei has served as an Associate Professor of Electronic Arts at Mills College.