Jasmine Hearn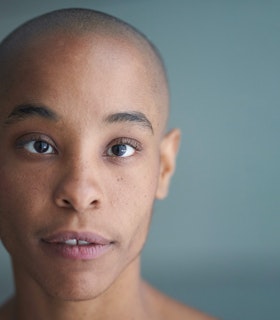 Artist Statement
I make the way I cook—arriving somewhere and using what is available, what is forgotten, and what is about to die. I use available materials to steep, season, and cook text, sound, choreography, and improvisation into a garment, song, and dance—patterns that simultaneously remember and imagine. The work I make with ancestry, Spirit, place, and people is a collaborative practice that roots me in my memory and experience. I make with the intention to preserve and expand lineages of learning by naming, practicing, and integrating a multitude of lessons. Since 2011, I have been researching how my body is able to use memory, sensation, and imagination as ways to enter embodied practices to articulate story, ancestry, and personal truth. Sourcing an expansive practice of dance, I am committed to the facilitation of an environment that centers pleasure and strength, in order to listen and respond to the past to shape the future.
- December 2022
Biography
Jasmine Hearn is an internationally-touring interdisciplinary artist, performer, choreographer, organizer, doula, and teacher. They are committed to performance as an expansive practice that includes a spectrum of dance and somatic traditions and techniques, sound composition, design, cooking, and the archiving of matrilineal memories. They give gratitude to Spirit, their mothers and aunties, and all the mothering Black people who have supported their moving, remembering body.
Trinity: child you lost water (2022) was a response to Hearn's experience traveling around the United States over a period of two years, attuning to vibrational histories and memories of people, land, and stars that pre-exist manmade architectures. The piece continues their performance practice and series of durational solos called N I L E. Hearn received a Foundation for Contemporary Arts Emergency Grant to support the presentation of Trinity: child you lost water in Macedonia, and later performed the work at Jacob's Pillow in Becket, MA.
Hearn has performed their work at venues such as the Kelly Strayhorn Theater, Pittsburgh, PA (2021); New York Live Arts, New York, NY (2021); Moody Center for the Arts at Rice University, Houston, TX (2021); Danspace Project, New York, NY (2019, 2017); and BAAD! Bronx Academy of Arts and Dance, Bronx, NY (2016). They have also performed with the companies Helen Simoneau Danse, Urban Bush Women, and David Dorfman Dance, among others, and collaborated with many artists, including Holly Bass, Maria Bauman, Marjani Forté-Saunders, Gerard & Kelly, Vanessa German, Li Harris, Bill T. Jones, Solange Knowles, Ayanah Moor, Lovie Olivia, Staycee Pearl, Alesandra Seutin, and Alisha B. Wormsley.
Hearn is the recipient of a Cynthia Hazen Polsky and Leon Polsky Rome Prize in Design with collaborator Athena Kokoronis of Domestic Performance Agency (2023), a Creative Capital Award (2022), New York Dance and Performance "Bessie" Awards for Outstanding Performer (2021, 2017), a Jerome Hill Artist Fellowship (2019), and Foundation for Contemporary Arts Emergency Grants (2022, 2017). They have been awarded residencies through Movement Research, New York, NY; Pittsburgh Foundation, Pittsburgh, PA; and the Camargo Foundation, Cassis, France.
Hearn, born and raised on occupied lands now known as Houston, TX, studied dance with a multitude of teachers, including their sister, cousins, aunties, instructors, and friends at family events, church, and the Houston Metropolitan Dance Center. They have also been greatly influenced by teachers, mentors, and collaborators, including Byronné J Hearn, Claudette Nickens Johnson, Joy KMT, Barbara Mahler, Pamela Pietro, Kendra Portier, Samita Sinha, Sandra Organ Solis, jhon r. stronks, Sherie van den Wijngaard, Charmaine Warren, Marýa Wethers, Bennalldre Williams, Marlies Yearby, and Jawole Willa Jo Zollar. Hearn received a B.A. from Point Park University.